After I had already posted the tutorial for making the ornaments out of the empty mint tins, I had a sudden brain storm and completely changed what I was doing. I removed the hanging loops from the top of the ornaments, added numbers to the fronts of the tins, and strips of magnetic tape (two strips for each tin) to the back. They are now going to be part of a magnetic, steampunk, advent calendar that can be used to decorate the refrigerator.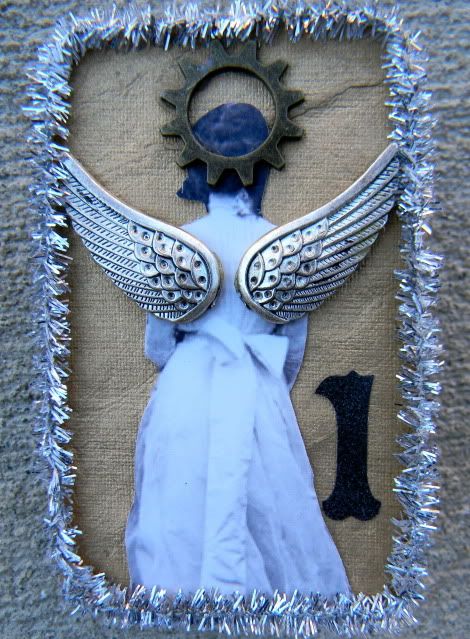 This one is for DH and Blaze, who are always talking about their "manly tea parties":
the inside:
Blaze's birthday is Dec. 6th, so the box for that day reflects that:
The inside:
Outside of tin 2:
Outside of tin 5:
The pros and cons of Newman's Own Mint tins vs. Altoids mint tins:
Altoids' tins are deeper, but have raised lettering, making it necessary to cover the lids with decorative paper or pictures. Altoids are easier to find in stores.
Newman's Own tins are shallow, but have smooth lids that make them easier to just paint and decorate (the manly tea party tin is from Newman's Own). Personal preference, I prefer the flavor of Newman's Own.
I have 7 days worth of tins completed, but that means I have many more to go. I'm on my way to Michael's to get more magnetic tape, right now.