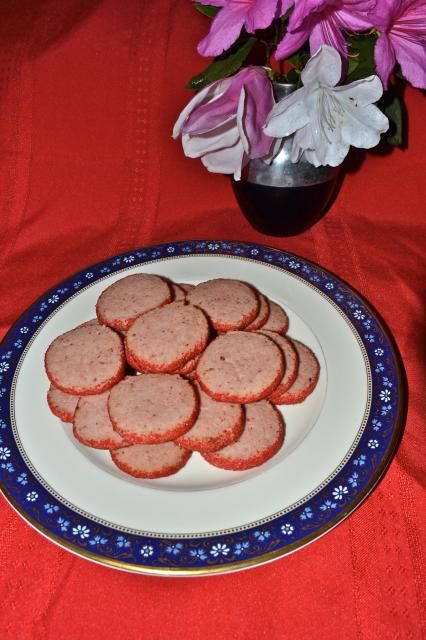 Strawberry Shortbread Cookies
1 cup of butter, softened (2 sticks)
1/2 cup powdered sugar
1/3 cup freeze-dried strawberries, ground into a fine powder in either a food processor or blender
2 cups of flour
Use a low setting on mixer to blend room temperature butter and sugar in a large mixing bowl. Add powdered strawberries. Mix well. Add flour a half cup at a time, mixing until it is all incorporated.
Roll the dough out in a sausage shape. If you wish to add colored decorating sugar, roll the dough in about 2 tablespoons of red sugar, Wrap the sausage-shaped dough in plastic wrap and refrigerate for at least an hour. The refrigeration will make the dough easier to slice.
Preheat oven to 350 degrees.
Slice and place on an ungreased cookie sheet. The cookies will not spread while baking. They shouldn't touch, but they can be placed about a centimeter apart and it will be fine.
Bake 10-12 minutes.
The round slices of dough can also be easily shaped into hearts before baking.
If you do not want to use any artificial food coloring in your family's Valentine treats, these cookies, minus the decorating sugar, are a nice pink color without anything artificial.