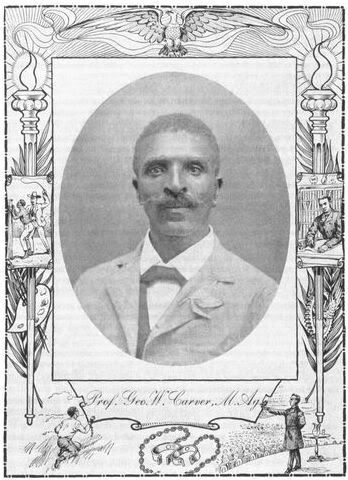 Most people teaching about George Washington Carver, focus on his work with peanuts. This is the part of his life most covered by children's books, as well, so we will be learning about that through projects and the following library books: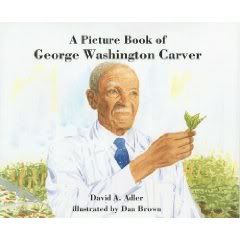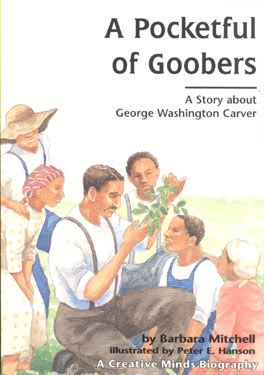 But, we will also be learning about his other achievements.
This list, found on the Tuskegee University website, shows the many products that he also made from sweet potatoes.
Foods
Flour (4)
Starch (4)
Sugar
Molasses (3)
Mock Cocoanut
Tapioca
Vinegar
Egg Yolk
Synthetic Ginger
Candy, 14 varieties
Chocolate
Dried Potatoes #1 and #2
Dry Paste
Potato Nibs
Bisque Powder
Breakfast Food #5
Meal (4)
After Dinner Mints #1,
#2 and #3
Yeast
Coffee, dry
Instant Coffee
Granulated Potatoes
Lemon Drops
Orange Drops
Sauce
Spiced Vinegar
Stock Foods
Stock Feed Meal (3)
Hog Feed
General
Stains
Dyes (73)
Paints
Medicine
Library Paste (5)
Alcohol
Rubber Compound
Writing Ink
Shoe Blacking
Fillers for Wood (14)
Synthetic Cotton
Synthetic Silk
Paper (from vines)
His interest in these particular plants, along with soybeans, came from a desire to find a market for plants that fix nitrogen in the soil, so that cotton farmers would not find it a hardship to rotate crops.
For one of our history lessons this week, we will be watching this History Channel biography of George Washington Carver.
Interesting fact:
Thomas Edison once offered Carver a job at his Edison Laboratories. The job would have paid $100, 000 a year, but Carver turned it down, because he felt he could do more good elsewhere.