Glamping
A form of
camping
involving
accommodation
and
facilities
more
luxurious
than those
associated
with
traditional
camping.
Origin:
early 21st century

: blend of

glamorous

and

camping

.
- Oxford Dictionary
This year's steampunk camping event has already been announced. It will be November 6, 2015 and will again be at
Mike Roess Gold head Branch State Park
.
The link to the event on Facebook is:
https://www.facebook.com/events/844007985631329/
Last year's trip was held in October, but attendance suffered due to a scheduling conflict with Renninger's Antique Mall and Flee Market in Mount Dora holding their weekend-long steampunk event at the same time. Renningers will be holding another steampunk event this year in October. To avoid any further scheduling problems, the Victorian Glamping trip has been moved forward a couple weeks. Early November is still well within the limited window of pleasant camping weather in Florida, cool evenings, perfect for sitting around a campfire, and average daytime highs in the 70's.
If your love of antiques and flea markets kept you away from this year's Victorian Glamping event, I have good news for you. Gold Head Branch State Park is only a 25-minute drive from the Waldo Antique Village, Farmers Market, and Flea Market.
http://waldofleamarket.com/
The idea of "glamping" is comfort. This is camping, but it's not roughing it. Most of the camping spaces in the Lakeview camping area (chosen because it is nearest to the cabins) have electricity. They all have water hook-ups, a grill, and a picnic table. My family has reserved the spot next to the primitive amphitheater.
Motorhomes, trailers, and tents are welcome.
Any style of tent can be used for glamping. Some of the examples we saw last year were a historically accurate canvas tent that the owner had purchased for Civil War Reenactments, a modern canvas tent, and a modern nylon tent.
I have seen some clever tent ideas on Pinterest that would be perfect for this sort of thing, such as inexpensive canopy tents hung with cloth or decorative blankets to create walls.
The tent with the pennant banner is ours. Our set-up is proof that glamping doesn't have to be expensive to look elegant. choosing air mattresses that are the same size as the beds at home, meant we were able to use sheets, blankets, and pillows that we already had, rather than buying sleeping bags. The nightstand between the beds was a thrift store purchase, that I refinished. The wooden folding chairs we took camping are ones we already had for use at home and the table cloth in the tent is a bed sheet.
The mirror for our hand washing station is a dollar store purchase that I decorated and the water dispenser was on clearance at Target. It was originally blue, but I spray painted it to go better with the rest of our camping gear.
The addition of a vinyl table cloth that looks like lace turned an old wooden picnic table into an inviting breakfast table:
Homemade trivets made it possible to place the hot coffee pot on the table without melting the vinyl (
http://overthecrescentmoon.blogspot.com/2014/03/fabric-covered-trivets.html
).
The simple addition of a string of solar lights across the front of the tent made it look more festive and made it easier to find in the dark. It also made this wild looking photo possible: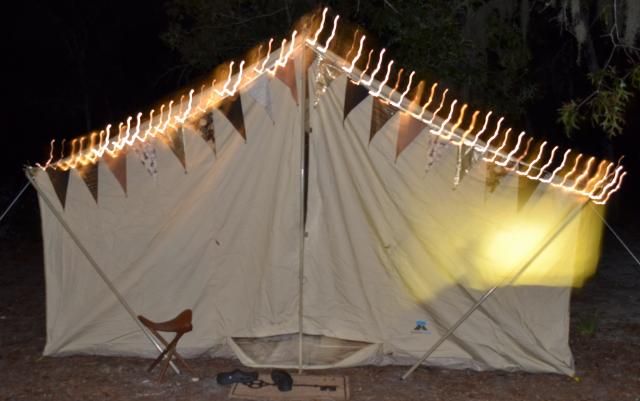 For people who do not own a tent or camper, or do not enjoy camping, the park offers 16 cabins.
Some of the cabins were built by the CCC (Civilian Conservation Corps) in the 1930s, while others are more modern and even include wheelchair ramps. The friends who allowed me to photograph the inside of their cabin were staying in one of the one-bedroom, historic cabins, which included a lovely fireplace, a full modern bathroom and kitchen, along with air conditioning. The screened porch was nice, but we actually didn't have any problem with mosquitoes.
The view from the front porch of this particular cabin (they all have views of the lake):
There is talk about setting up a movie screen on that open lawn between the cabins and the lake for an outdoor movie night this year.
Pets are permitted in the camping area, but not in the cabins.
If you enjoy fishing, the cabins are overlooking a lake that has canoe rental and fishing, as well as swimming.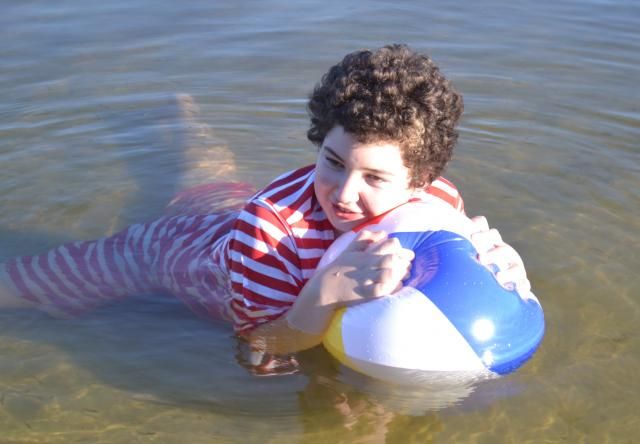 Next year's Victorian Glamping event:
November 6, 2015
If you want to see what individual campsites look like, this site offers a photograph of each one:
http://www.campsitephotos.com/campground/Gold-Head-Branch-State-Park/photos/Gold-Head-Branch-State-Park-070
Reservations are now available.