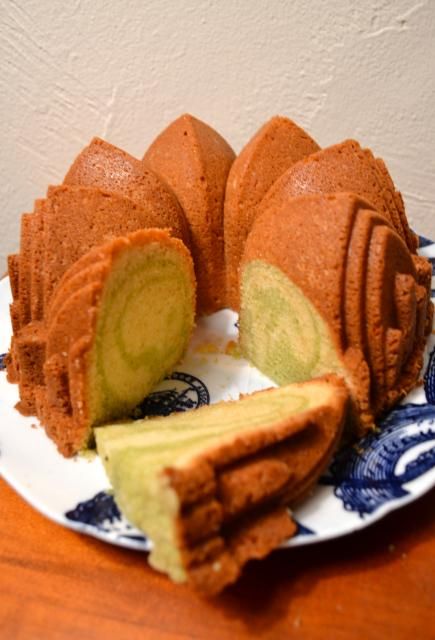 Green Tea Swirled Pound Cake
2 3/4 Cups sugar
1 1/4 Cups softened butter
5 eggs
1 teaspoon vanilla
3 Cups unbleached all-purpose flour
1 teaspoon baking powder
1 teaspoon baking soda
1/4 teaspoon salt
1 Cup sour cream
Pre-heat oven to 350 degrees F.
Spray a large bundt cake pan with Baking Pam.
In a large mixing bowl, beat butter and sugar. Add eggs, vanilla, and sour cream beat until well blended. Scrape the bowl occasionally. In a separate bowl, mix all the dry ingredients together. Gradually add the dry mixture to the batter, beating in between each addition.
Place 1/3 of the batter in a separate bowl and add 4 teaspoons of green tea powder (macha). Mix well.
Use 1/3 of the remaining white batter to make the first layer in the bundt pan. Cover that layer with 1/3 of the green batter. Continue alternating white and green batter until all the batter has been used. Smooth out each layer after it is added. When the top layer has been smoothed, take a butter knife and stick it into the cake at random spots all the way around (this will cause the swirled effect). Smooth the top of the batter again.
Bake for 60 to 70 minutes, until a skewer stuck into the cake comes out clean.
Let the cake cool for 20 minutes before removing from pan.