It's time for the second installment of #Teapot Tuesday.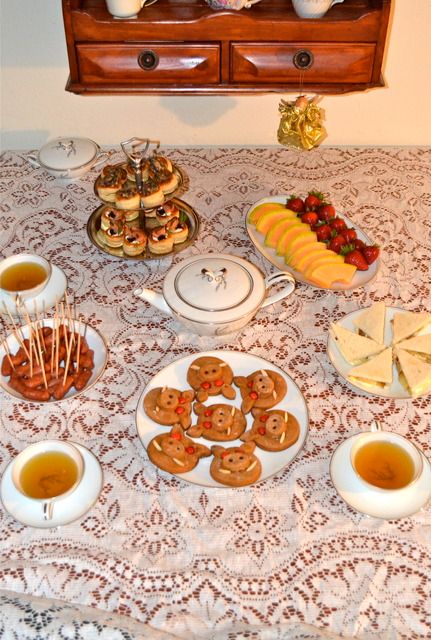 This time, the featured teapot and all of the dishes are Noritake China, made in Japan. The pattern is "Candice". My husband inherited these, his mother's best china, when she passed away.
The featured book for this tea party is Neverwhere, by Neil Gaiman
The passage from the book, which provides the perfect menu for a tea party, is the reception at the British Museum for the opening of the Angels Over England exhibit.
"And then, with more enthusiasm, she said, 'Food!' She descended on the canapes like a small, smut-nosed girl in a too-large leather jacket who has not eaten properly for sometime. Enormous quantities of food were immediately crammed into her mouth, masticated and swallowed, while at the same time, the more substantial sandwiches were wrapped in paper napkins and placed into her pockets. Then, with a paper plate heaped high with chicken legs, melon slices, mushroom vol-au-vents, caviar puffs, and small venison sausages, she began to circle the room, staring intently at each and every angelic artifact.
Richard trailed along behind her, with a Brie and fennel sandwich and a glass of fresh squeezed orange juice."
- Chapter 9
The menu:
Mushroom Vol Au Vents
Caviar puffs
"Little Smokies" sausages (little venison sausages are not so easy to find, so little smoked sausages were substituted)
Brie and fennel sandwiches
Melon slices and fresh strawberries
The Beast of London gingerbread cookies
Mint green tea
Orange juice for people who do not wish to have tea
The mint green tea was chosen because of the green colored restorative drink that Richard is given.
"Richard knocked back the green liquid, which tasted of thyme and peppermint and winter mornings."
- Chapter 10
Puff Pastry Cups (needed for the next two recipes):
Defrost frozen puff pastry dough. It should still be cold, but no longer frozen. I took my dough out of the freezer and placed it in the refrigerator over night, then may the pastry cups in the morning. You can also just set the box of dough out on the kitchen counter for a couple hours to defrost.
Pre-heat oven to 400 degrees F.
Make egg wash by whisking 1 egg yolk with 1 Tablespoon cold water.
Roll out the dough on a floured surface.
Use a 2-inch round cookie or biscuit cutter to cut as many circles as you can out of the dough. Then, use a 1-inch circle to cut a smaller circle out of the center of half the larger circles. Brush the large, solid dough circles with the egg wash and place a ring-shaped circle on top. Make the edges match. Move the completed dough cup to a parchment covered baking pan and brush the tops with egg wash.
Bake for 12 minutes. Let cook for 10 minutes, before scooping any excess pastry from the center of the cups. I found that a grapefruit spoon is a very handy tool for removing the excess puff pastry without damaging the cup.
Mushroom Vol Au Vents:
2 Tablespoons butter
1 Tablespoon olive oil
1 pound mushrooms, roughly chopped
3 cloves of garlic, finely minced
1 heaping tablespoon of finely cut fresh chives
3 Tablespoons brandy
1/2 Cup heavy cream
3 Tablespoons Parmesan cheese
Salt and pepper to taste
Additional fresh chives for garnish (optional)
In a large frying pan, saute the mushrooms in the butter and olive oil until they start to soften. Add garlic, chives, and brandy. Cook until all the liquid has evaporated, stirring all the time. Add cream and parmesan cheese. stir and cook until the cream thickens. Remove from heat. Add salt and pepper. Spoon mushrooms into the puff pastry cups and serve.
Caviar Puffs:
4-ounces softened cream cheese
1 teaspoon lemon juice
1/8 teaspoon black pepper
4-ounce package of thinly slice smoked salmon, cut into 12 pieces
Black caviar
Fresh dill for garnish
Mix cream cheese, lemon juice, and pepper together and use the mixture to fill 12 puff pastry cases. Roll up a piece of salmon and stick it into the cheese in one pastry cups. Place a dab of caviar (about an 1/8 of a teaspoon) in front of the salmon. Garnish with a small sprig of dill, also stuck into the cheese.
Roasted Fennel:
2 fennel bulbs
2 Tablespoons of olive oil
1 teaspoon of course sea salt
Pre-heat oven to 400 degrees F.
Cut each fennel bulb in half and remove the core. Cut each half-bulb into 4 wedges and place them in a bowl with the olive oil. Toss until well coated with oil. Spread the fennel on a baking sheet and sprinkle with salt. Bake 30-40 minutes.
The Brie and fennel sandwiches in the photograph are just made using plain thin sliced white bread. They were alright, but not as good as I had hoped. The next day, I tried making them again as grilled sandwiches, and they were beyond amazing! As DH said, "What isn't better when it's fried in butter?!" But, this is incredible, warm roasted fennel with melted Brie oozing out of the edges of the sandwich!
There was nothing sweet mentioned in the description of the reception, but I like to have something sweet at a tea party, so I took my inspiration from "London Below" and made boar shaped gingerbread cookies to represent "The Beast of London". London Below seems quite old fashion and gingerbread seems like a very old fashion type of cookie to me, which is why I chose it.
The gingerbread cookie recipe can be found here:
http://overthecrescentmoon.blogspot.com/2009/12/out-of-this-world-gingerbread.html
The red eyes for the boar are cinnamon "Red Hots" and the tusks are slivered almonds. Both should be added to the cookies before baking.