This week's featured teapot racer is "Earl Grey".
The Earl Grey is a teapot racer with a tea-pirate theme. It has a crew of tiny pirates, Captain Green, his daughter Jasmine, Mr. Baker, and Mr. Brewer.
This was the racer that inspired teapot racing in Florida.
After seeing videos of the teapot races in New Zealand on YouTube, 14 year old Blaze was very excited to make a teapot racer of his own. We built this one together and we were very happy with the way it turned out, but had no one to race against, so I started the
Splendid Teapot Racing Florida Facebook page.
While I was busy making arrangements for a race and building the ramps, Blaze was practicing with his new racer, which included making a large fleet of magnolia leaf ships for it to battle.
Blaze bribing the judges at the Royal Renninger Races at Renningers Steampunk Industrial Show on Oct. 17, 2015.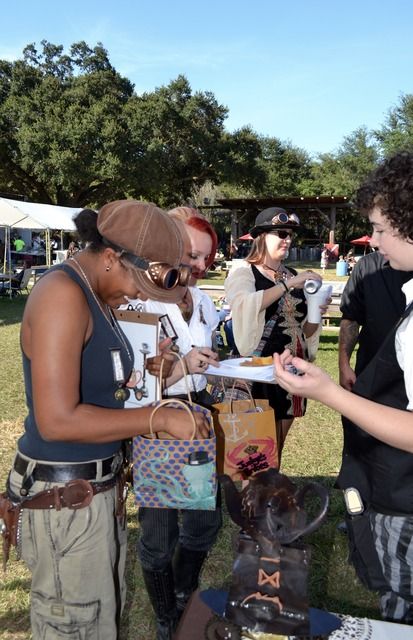 With the character in the crow's nest, the Earl Grey is pretty tall, but it passed inspection.
This was one of the two "Rock Crawler" RC cars in the race and both did very well on the rough course.
Blaze became the first Splendid Teapot Racing Grand Champion in Florida.
Blaze is very proud of his trophy, which now resides on the headboard of his bed.
Today, I noticed that four new magnolia leaf ships have appeared in front of our house, so I think the pirates of the Earl Grey will soon have another armada to defeat.