This recipe is based on a recipe my mom use to make for her microwave cooking classes and demonstrations when I was a teenager. My only addition to the original is the can of tiny shrimp.
I served this on "party rye" bread at the picnic that my son and I had last week. The following day, I served some in little cucumber cups and my son said he liked that even better, because he thought the rye bread was too dry. My mom served it as a dip for potato chips. So, it is quite versatile.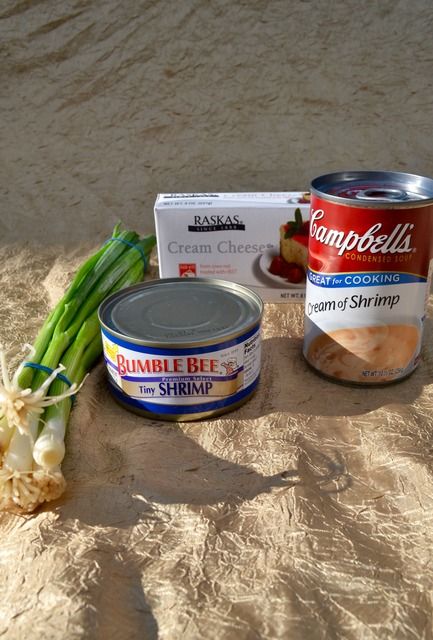 1 8-ounce package of cream cheese
1 can of Cream of Shrimp Soup
1 4-ounce can of Tiny Shrimp
1 bundle of green onions
Place the cream cheese in a microwave safe bowl and heat in the microwave 1 minute on high power. Stir. Add Cream of Shrimp Soup and put back in the microwave for an additional minute on high. Stir well. Add tiny shrimp and three finely sliced green onions (white and green parts) to the mixture and stir well. Finely slice two more green onions to use as garnish.
The dip can be made a day in advance. It will keep for 3 or 4 days in the refrigerator in an airtight container.