I haven't done one of the literary tea party menus for a long time, but I was feeling inspired this week. I recently finished reading the 6th of Naomi Novik's Temeraire novels,
Tongues of Serpents
, aloud to Blaze and he's looking forward to getting the next book in the series.
Also, today is Blaze's 16th Birthday.
First gifts, then tea party!
The Temeraire series deals with the adventures of Captain William Laurence, a navel officer who captures a dragon egg from a French ship in 1805.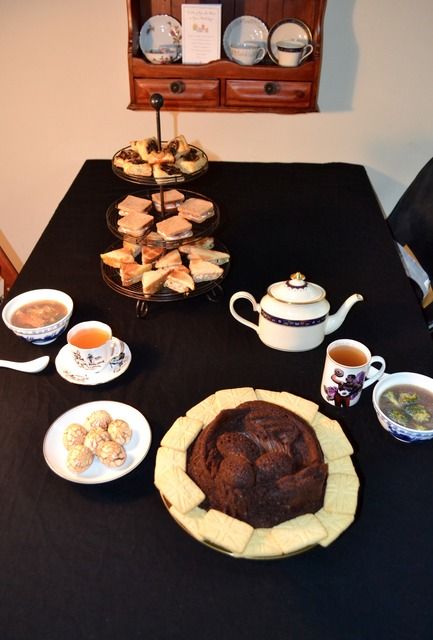 When the egg hatches and the dragon imprints on Captain Laurence, he must leave the Navy to join the British Aerial Corps and the reader is introduced to a world where dragons are an important part of the war against Napoleon.
Blaze chose chocolate for the cake, because the dragon, Temeraire, is a black, Chinese, Celestial dragon.
Chocolate cake shaped like a dragon curled protectively around three eggs and British flag shaped Walker's shortbread cookies.
Tuna salad sandwiches, lamb sandwiches, and spicy mushrooms on puff pastry:
The savory parts of the menu are based on things that Temeraire ate, with the exception of the eggs.
Dragon Eggs recipe:
http://www.janbrett.com/dragon_eggs_recipe_and_coloring_page.htm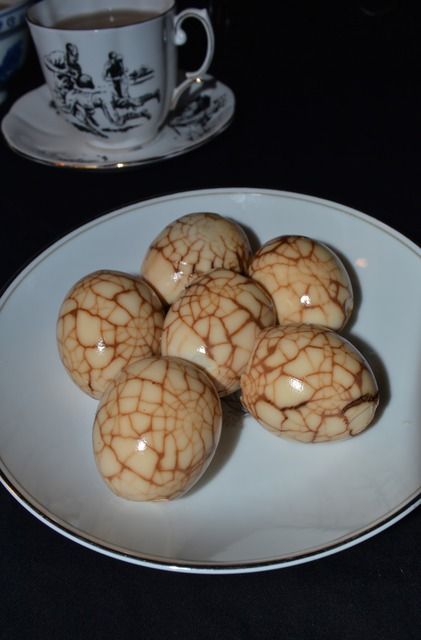 Menu
Chinese Style Beef and Broccoli Soup
Dragon's Eggs
Tuna Salad Sandwiches
Lamb on Rye Sandwiches
Spicy Mushrooms on Puff Pastry
Chocolate Cake Dragon
Union Jack Walker's Shortbread Cookies
Green Tea
Save
Save