Yes, I know it sounds strange, but cocoa powder and curry spices do go well together. It's similar in concept to a Mexican mole sauce.
My son has been watching the Japanese anime show, Black Butler, on Netfix and was so fascinated by the idea of chocolate curry in a fried bun, which was the winning entry in an episode about a curry festival, that he asked if we could make it.
Sebastian, a demonic butler, prepares to fry the curry buns: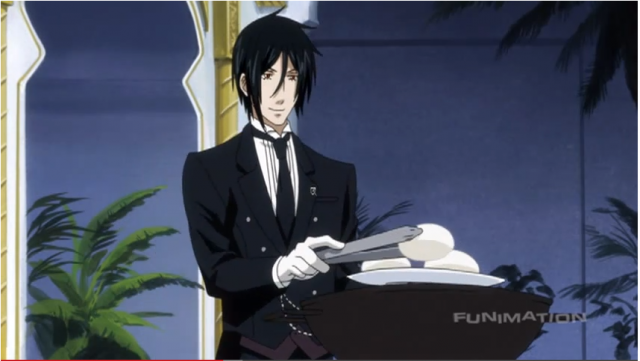 The first of our curry buns, straight out of the hot oil:
Chocolate Curry
3 Tablespoons dark cocoa powder
1 can (400ml) coconut milk
2 Tablespoons olive oil
1 onion, finely chopped
1/4 teaspoon ground cloves
1/4 teaspoon ground cardamon
1/2 teaspoon salt, or to taste
3 cloves of garlic, finely chopped
2 teaspoons ground ginger
1 teaspoon chili powder
2 skinless, boneless chicken breasts, cut into bite-size pieces (for a vegetarian version, cubed, firm tofu can be used instead of the chicken)
3 Tablespoons of sugar
1 teaspoon Sriracha chili sauce
1/3 Cup carrots, diced (or sliced baby carrots)
1/2 Cup green peas
1/4 Cup of cilantro, finely chopped
Place the cocoa in a small mixing bowl. Pour the coconut milk into the bowl, stirring all the time, until the cocoa is blended in and there are no lumps. Set aside.
In a deep sauce pan, fry the onions, cloves, cardamon, and salt for about 5 minutes, until the onions are soft and starting to brown. Add garlic and fry for about 1 minute. Add ginger and chili powder. Stir. Add chicken and cook for 4-5 minutes, stirring all the time. Add the cocoa mixture, sugar, and Sriracha. Bring to a simmer. Cook, uncovered, for about 10 minutes. Stir in the cilantro and remove from heat.
For the dough, I used my standard refrigerated roll dough (the dough I use for just about everything).
Refrigerator Roll Dough
1 package ( 1 Tablespoon ) active dry yeast
1 1/2 Cups warm water (105 to 115 degrees)
1 Cup unseasoned lukewarm mashed potatoes
2/3 Cup vegetable oil
1/3 Cup honey
1 1/2 salt
5 to 6 cups unbleached white flour
This is a good recipe to make on a night when you are making mashed potatoes for dinner. Before seasoning the potatoes, reserve 1 1/2 cups of the potato water and 1 cup of the plain mashed potatoes.
In a large mixing bowl, combine the yeast and water. Then add everything else, first mix with a spoon and then kneed by hand. Add flour as necessary, until it becomes a good pliable dough. Form the dough into a large ball and oil the outside of the ball, so it won't dry out while rising. Cover and place in the refrigerator over night. The dough can be kept in the refrigerator for up to 3 days. The dough does not have to be baked all at once. You can bake just what you need for each meal. Punch down dough before using.
To make the buns, I rolled out the dough into circles about the size of a saucer, put some curry in the middle, dampened the edges of the dough, so the it would stick together as I pinched it into a closed bun shape, and deep-fat fried it.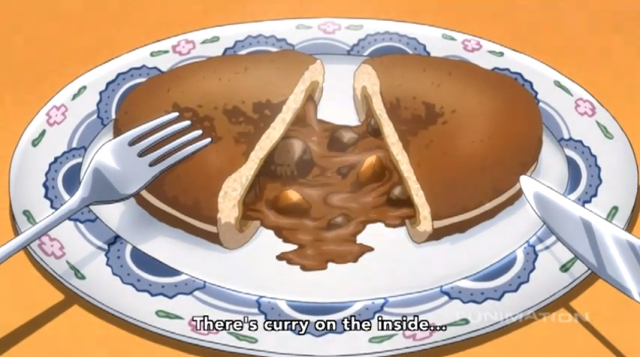 The full episode of Black Butler with the curry festival (subtitled):
http://www.youtube.com/watch?v=uvuh70ibVts