With my busy schedule, it's best if I work on things a little at a time, starting WAY in advance. So, even though it's the beginning of November, I have already been working on things for December.
The pattern I'm using for the Christmas stockings can be found here:
http://familyfun.go.com/crafts/fancy-boot-christmas-stocking-667366/
The original design, on the "family fun" website, is for a solid color, felt stocking, but I am using the free pattern to make lined, crazy quilt stockings.
Start by sewing together scraps of fabric. Use varying sizes and shapes, so no pattern emerges.
Pin the stocking pattern to the pieced together fabric and cut out. Do this twice, making sure that the direction that the pattern is facing is switched for the second cutting.
Next, use the pattern to cut two stocking shapes out of solid color lining fabric.
Pin one lining piece to one outer panel along the top edge, right sides together. Sew together.
Repeat with the other two pieces.
Lay the pieces out flat.
Match lining piece to lining piece and outer panel to outer panel, right sides together, and pin in place.
Sew around the outer edge of the entire thing, except for a space large enough to fit your hand on one side of the lining. When you are done sewing, using the opening you left to turn the outside of the stocking right-side-out. Sew the hole closed and then stuff the lining down into the stocking. Sew on a loop for hanging the stocking. My loops are made of bias tape, but decorative ribbon will work well,too.
Frontside of stocking #1: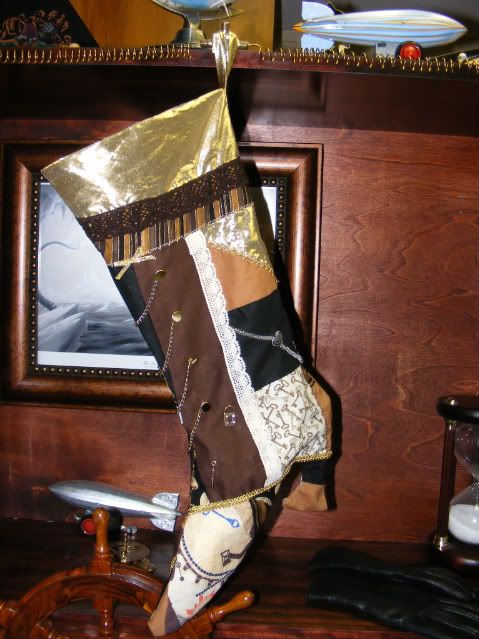 Backside of same stocking: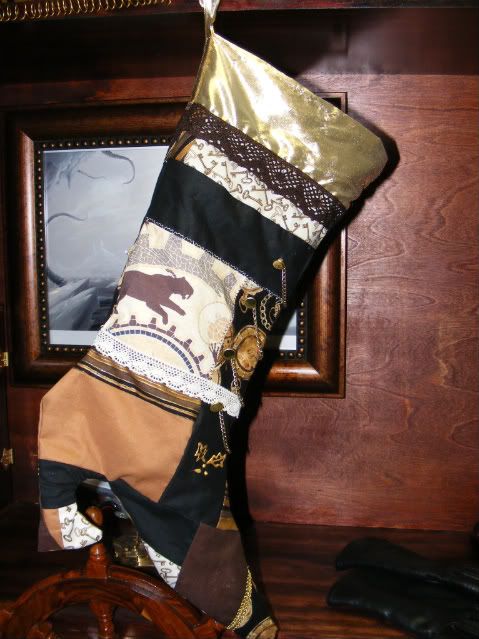 Frontside of stocking #2: