The earlier incarnation of the airship pirate armband can be seen in this picture from Halloween two years ago,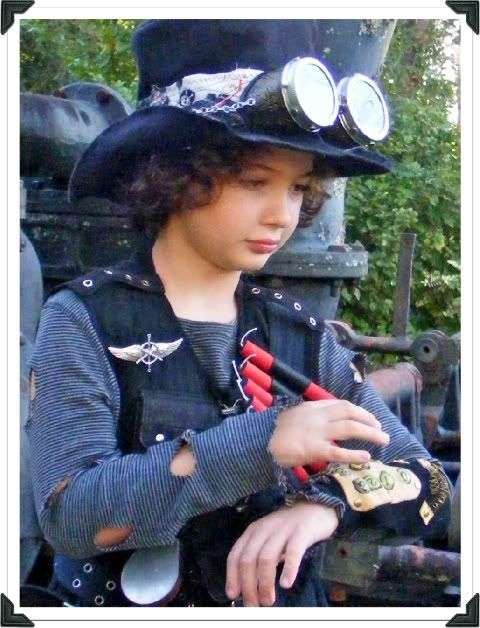 but it was time for an upgrade before we go to Dragon*Con.
I salvaged the elastic and the number charms from the original armband, but disposed of the rest (it was pretty damaged after two years of play).
For a pattern, I traced the original armband on a regular sheet of printer paper, which means that a seam allowance had to be added. I chose to add a 1/2-inch all around to accommodate, not only the seam allowance, but also the fact that Blaze has grown over the past two years.
Using some of the scrap leather I purchase every year at the Medieval Faire, I cut two matching pieces from black leather. One of the pieces had a window cut into it, the size of the Ipod screen. Then I used a rich, reddish-brown leather for accent pieces. The number charms are glued in place with strong glue and the leather covering is glued over them. The other pieces of leather are held in place with both glue and rivets (really just office brads).
The two pieces of black leather were then sewn together, right sides together, leaving the wide end open. After sewing, the armband was turned right -side out. Stitching was added around the Ipod window and then a frame of the contrasting color, with a smaller window, was added around the Ipod window, to assure that the Ipod stayed in place. Extra stability was added to this layer, by gluing a match frame made of cereal box cardboard to the under-side of the brown leather. Velcro was used to seal the opening for the Ipod case.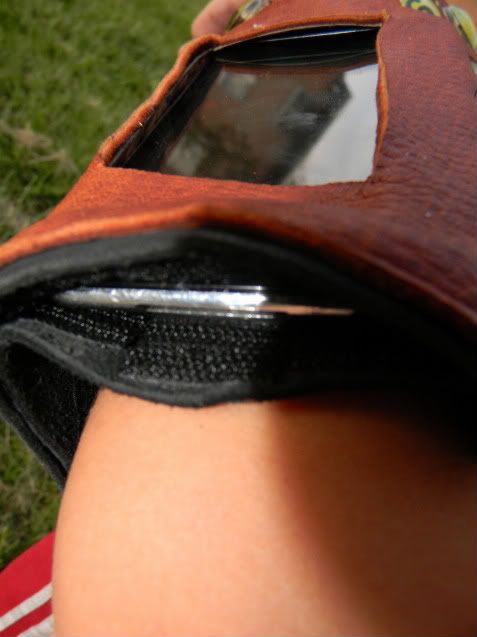 Copper wire was wrapped around a pencil to create a coil, that was attached to the two brads on the side of the armband.
A piece of cardstock with Blaze's name, medical alert information, my name, and my cell phone number is placed under the Ipod. I will probably also add our hotel and room number information to it. I don't plan on letting him out of my site at Dragon Con, but with big crowds in big hotels, I'm not taking any chances. He has been told to show his emergency card ONLY to police or hotel security and ONLY if he's sure he cannot find us. This may not have been necessary, but I also explained that people dressed as super heros are not really working for the police.