This is Blaze:
He is 12 years old, is very friendly and outgoing, and is homeschooled because of developmental delays. He loves Legos, especially Lego Ninjago. He finds reading to be extremely difficult, but is great at following the picture directions that come with the Lego kits.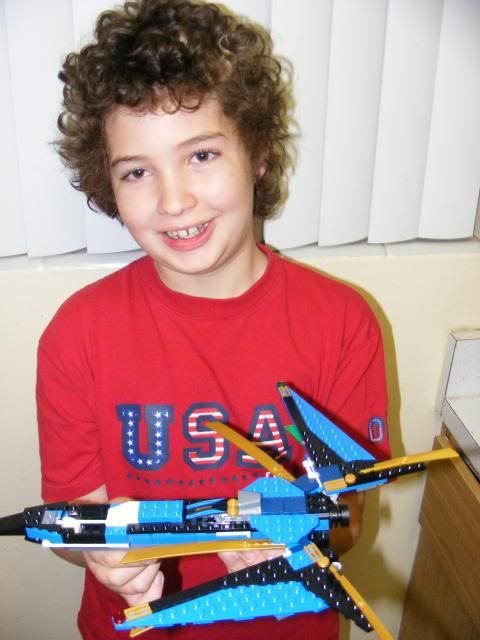 He loves Harry Potter, science fiction, dragons, pirates, and steampunk.
He, also, enjoys swimming, soccer, air hockey, video games, tea parties, crazy dancing, and dressing up in costumes.
For any of you who have been following my blog for awhile, you probably have realized that my son, Blaze, is entertaining. He has a great imagination and constantly makes us laugh. He has also had some pretty frightening health challenges and we are very lucky that things have turned out as well as they have.


Blaze has epilepsy. His first seizure happened three days after he was given the chicken pox vaccine, just after his first birthday. The doctor had warned me, at the time of the shot, that three days later, around noon, he would probably start running a fever, so I wasn't surprised when the daycare called to tell me that he had a fever. By the time I drove him home, the seizure had started. I carried him into the hospital emergency room and he was instantly removed from my arms and whisked off to treatment, but the seizure lasted over a half an hour. The seizure did not act like a febrile seizure (one caused by a fever), because it affected just one side of his body and his fever was not that high, but after keeping him in the hospital for a week, the doctors still could not figure out what had caused the seizure. They did not believe that the chicken pox vaccine had cause it, only that it had worked as a trigger for something that was waiting to happen anyway.


He has had several seizures since then. They are not very frequent, going up to two years between the last one and the one before, but some have been severe enough to land him in the hospital for a few days.


Both of Blaze's sisters started walking at a year old, but Blaze did not. He walked while holding onto push toys, but dragged his right foot, which also turned to the side. I took him to a specialist, who told me that all I had to do was have him wear high-top baby shoes to straighten his right foot. I did that. His foot turned forward, but he then began toe-walking on the right side.


It took an MRI, when he was 3 years old, to discover that both the seizures and walking issues were caused by cerebral palsy. There is a small uneven line that showed up on the left side of the brain on the MRI, a cleft where nothing had grown, probably formed during the first trimester of pregnancy.
The cerebral palsy effects the right side of his body, making balancing on a 2-wheeled bike, even one with training wheels, impossible. When he was younger, he had a "big wheel" that he loved, but he is now 12 years old and is too big for that.


We cannot afford a bicycle built to accommodate a special needs child on our own and had signed up for a contest to try to win one. In order to even be entered in the contest, the child had to have 50 people nominate them. I appealed to the Florida steampunk community for help and they came through in a big way. Within 3 hours, he had all the nominations he needed. I couldn't have been more pleased and grateful. When he didn't win the drawing for the bike, I thanked everyone and said we'd just try again next year. That was when I heard from The Airship Annabel Lee's founder Graesyn Fenix. The nonprofit was just getting started and wanted to know if the bicycle could be their first project. I am so excited by this!
The Airship Annabel Lee is collecting both monetary donations and donations of handcrafted steampunk goods to be auctioned off.
For more information about how to help, contact Graesyn Fenix at:
https://www.facebook.com/graesyn.fenix
or donate at:
https://fundrazr.com/campaigns/cXdW7
Thank you for any help you can give!
The music video that Blaze made for a DIY.org project:
The blooper reel:
P.S.
If any of you see us at Dragon*Con this year, or at any of the Florida steampunk events, please don't say anything to Blaze about the bicycle. He knows nothing about this. If enough funds are raised, it will be a Christmas surprise for him.