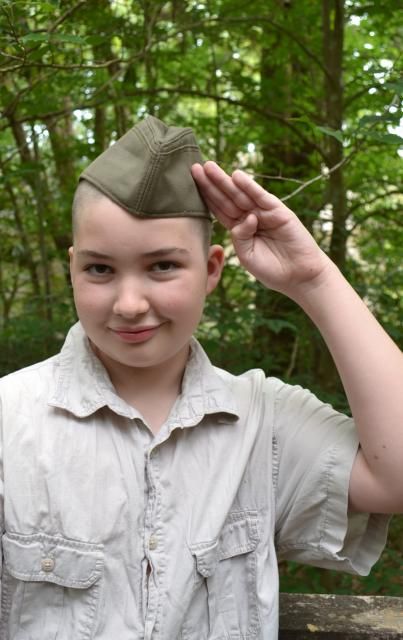 We decided to try living for a week off of the food allowed by American rationing during World War 2.
In the beginning this seemed easy. Fresh produce, milk, and eggs were not rationed. Most meats were rationed, but not poultry or Spam.
First, however, there was a math lesson to figure out how many of each kind of stamp our family would be given. Each person over 12 years old was allotted 48 blue stamps each month. Blue stamps were used for processed foods, such as canned fruits and vegetables. They were also given 64 red stamps, which were used for meats and fats. First we figured out our family's total for the month, then we divided that by 4, assuming a 4 week month, to determine how much we would have for a single week.
Sugar rationing was separate from the other rationing. Each person was allowed 2 pounds of sugar per month. For us, that would be more than we go through in a normal month.
My mother, who was 9 years old when the United States entered the war, said that the sugar shortage was usually only a problem if you had berry bushes and fruit trees and were going to do canning.
Since stores might not get shipments of rationed goods, even if you had the money and ration stamps to buy them, I chose to treat sugar as that item we were unable to get that week. We started off the week with about a cup and a half of sugar.
Although the number of points needed to buy rationed foods changed from week to week during the war, we used the following newspaper ads and documents for our experiment: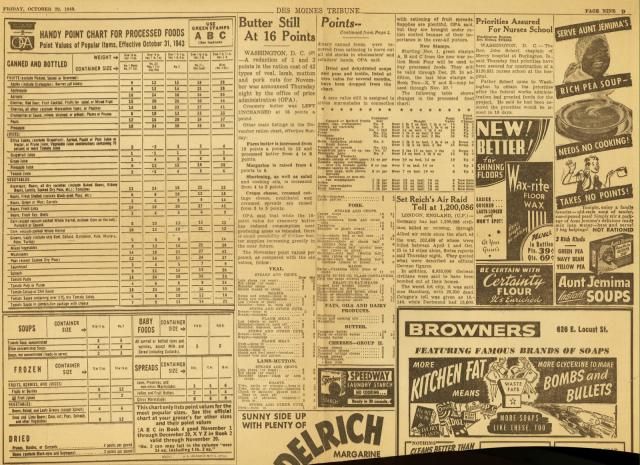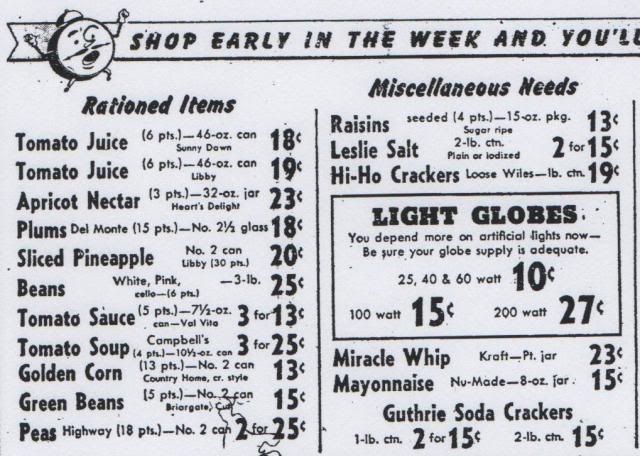 I purchased only foods that would have been available at the time, but did not always restrict myself to the popular recipes of the day.
By the end of the day on Tuesday, we had used all our ration stamps for the week.
The last of the sugar was used up on Tuesday night to bake a sour cream pound cake, which lasted for two days. After that, honey was used as a sweetener.
A week of living off of food allowed by rationing:
Sunday
Breakfast: A glass of Milk with Ovaltine for Blaze, Coffee for the adults
Lunch: Thin pork chops with roasted potatoes and carrots
Dinner: bean burritos (refried beans and cheddar cheese on wheat tortillas)
Monday:
Breakfast: DH had oatmeal. Coffee for the adults and milk with Ovaltine for Blaze
Lunch: Peanut butter and jelly on a tortilla
Dinner: Chicken parmesan on spaghetti
Dessert: Root beer floats (ice cream shops were allowed 70% of the sugar they had been using pre-war and Barq root beer began bottling their soda for distribution at the beginning of the war)
Tuesday
Breakfast: DH had oatmeal. Coffee or milk
Lunch: turkey, cheese, and lettuce on a tortilla
orange juice
Dinner: left-over chicken parmesan and spaghetti
Dessert: Root beer
Wednesday
Breakfast: Sour cream pound cake with fresh raspberries, milk for the child, coffee for the adults
Lunch: Turkey sandwich and grapes. Iced Tea
Dinner: Great Northern Bean soup (dried beans, onions, potatoes, carrots, celery, bell pepper, ham, and a splash of milk) and homemade honey cornbread (made with honey, because the pound cake used up all of our sugar).
Honey Cornbread
1 Cup all-purpose flour
1 Cup corn meal
2 teaspoons baking powder
1/2 teaspoon salt
1 Cup milk
1/4 Cup vegetable oil
1/2 Cup honey
2 eggs
Preheat oven to 400 degrees F.
Blend dry ingredients together in a large mixing bowl.
Add liquid ingredients and mix until all the dry ingredients are moist.
Pour batter into greased pan (I used a cast iron skillet) and bake for 20-25 minutes.
Thursday
Breakfast: a Slice of plain sour cream pound cake, coffee for the adults, and a glass of milk for the child
Lunch: Peanut butter and jelly sandwich, water to drink
Snack: vanilla ice cream with fresh raspberries
Dinner: Tossed salad and sliced, fried Spam
Dessert: one Hershey chocolate bar each
Friday
Breakfast: DH had oatmeal. Coffee or milk
Lunch: Left-over bean soup and cornbread
V-8 juice
Blaze refused to eat left-over bean soup. Instead he has an apple, a handful of grapes, and a piece of cornbread.
Snack: Popcorn
Dinner: Mock duck, mashed potatoes, and gravy
Mock Duck
1-pound sausage meat
1 Cup grated apple ( I used a gala)
1 Cup grated onion
1 teaspoon finely chopped fresh sage
Preheat oven to 350 degrees F.
Mix apples, onion, and sage in a medium-size mixing bowl
Divide the raw sausage in half. Flatten one half into a half-inch thick rectangle and spoon all the apple-onion mixture onto the rectangle, avoiding the edges. Flatten out the second half of the sausage and place it over the apple stuffing. Pinch the top layer of sausage onto the bottom layer and form into a rounded loaf. Bake for 40-45 minutes. I baked the mock dock in a cast iron skillet and then used the drippings to make gravy. This made 6 slices, so we each had two.
Saturday
Brunch: Spam hash and poached eggs. Coffee or Ovaltine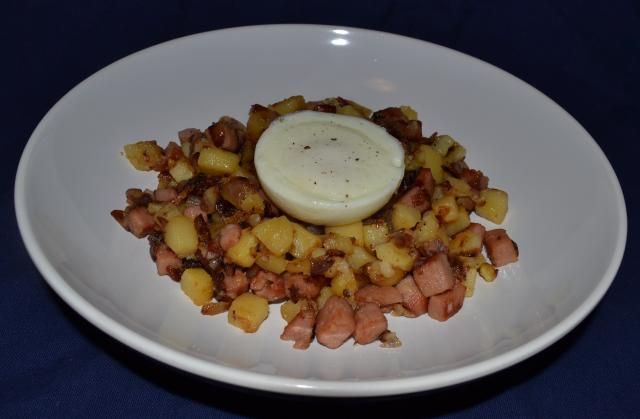 Spam Hash
2 Tablespoons of vegetable oil
1 onion chopped fine
5 medium potatoes diced into 1/4-inch pieces
1 can (12-ounces) of Spam, diced into 1/4-inch pieces
Pour oil into a large frying pan and fry the onion, potatoes, and Spam, stirring and flipping them over with a pancake turner until dome. Serve with a poached egg on top.
Snack: Sliced apples and popcorn
Dinner: DH had left-over bean soup. Blaze and I had peanut butter and jelly sandwiches.
The chicken I had put in the refrigerator to defrost was still hard as a rock at 5:00 p.m.
The original plan for dinner had been chicken and dumplings.
Quiz about rationing in the United States:
http://www.funtrivia.com/playquiz/quiz3348672655df0.html
In keeping with our World War 2 theme, we watched the Charlie Chaplin's movie The Great Dictator on Tuesday night.
Swimming in Wakulla Springs would have been fine way to spend a summer day during the war. The lodge opened in 1937 and Johnny Weissmuller was in two Tarzan movies that were filmed there. Here he is at the springs in 1941:
Thursday, when we went to the springs:
Friday was the 70th anniversary of the D-Day invasion. BBC Radio had a special program of the original D-Day news reports, either recorded at the time or the scripts read by modern actors.
http://www.bbc.co.uk/programmes/p01zkdry