We were about to leave Minneapolis Friday morning, when we passed the sign along the highway that warned that the exit for Como Zoo was coming up. It was a warmer, drier day than the day before, so DH decided we could make an impromptu stop.
Como Zoo is one of the free attractions around Minneapolis.
We seemed to have picked the day when every child in Minnesota visits the zoo.
My children, ex-husband, and I had visited the zoo 10 years ago, but I don't remember the crowds being so bad.
DH doesn't like crowds, so it didn't take him long to announce that he had had quite enough of other people's kids.
The conservatory was far quieter and prettier than the zoo.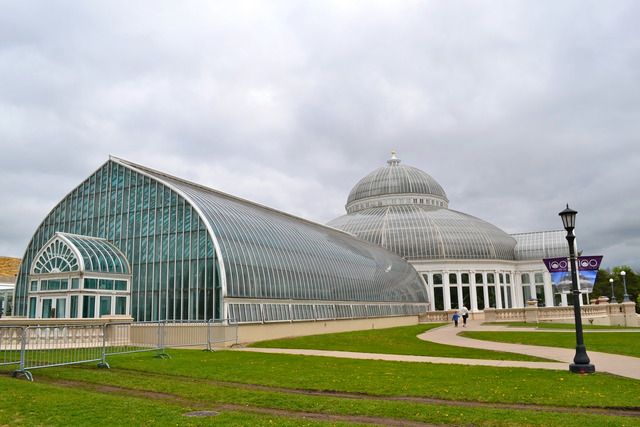 Blaze and Grandmother:
We made only one more stop at the zoo after leaving the conservatory, but it was undoubtably the most disturbing.
The viewing room for this polar bear was so crowded that it was hard to move and something was very wrong with the bear. It was acting like it was having dry heaves and I was worried that it was having a seizure.
I remember being bothered by the behavior of the polar bear 10 years ago. The enclosure for the bears was smaller then and the polar bear was swimming back and forth, like pacing, in a tank that was too small for it's needs. This is quite likely that very same bear. The park has twin bears who are 20 years old and I can't imagine that their new enclosure could cure them of all the crazy caused by the smaller, less stimulating enclosure that they used to have. Any enclosure is probably too small and madness inducing to a polar bear. Como Zoo's own website says that "
Polar bears have been known to swim for 100 miles in a single stretch".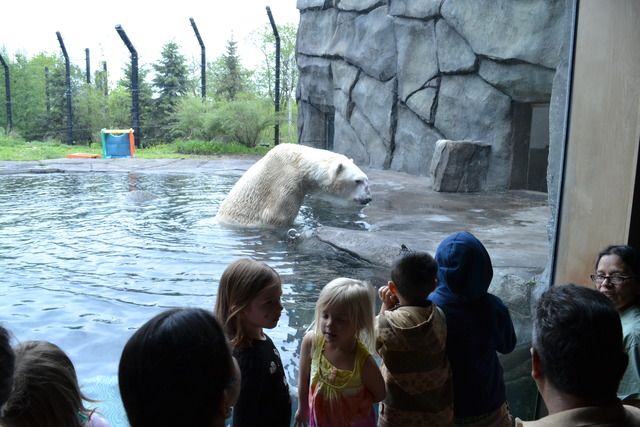 The website
, also, states that they can smell a seal 20 miles away. That alone would cause insanity, I would think, because the seals are only a short walk away. Imagine living next door to a restaurant that is cooking delicious food all day. You can smell it. It makes your mouth water, but you are on house arrest and may never walk out the door. You will be fed by your captors, but it will never be the food that you crave. That will remain as a tantalizing smell that you can never act upon.