This week I am featuring the mother and son teapot racers Kat and Draiden Cain and their creations, Mad Racer and Mad Racer #2.
These were the spookiest looking entries in the Oct. 17th races, but the skull theme was perfect for this pair of pirates.
The first of the two racers to try the course was Mad Racer, but it was not to be. This was one of those cars that just wouldn't budge on the rough grass. Kat Cain doesn't give up easily, though. She tried over and over to get her racer to move. This was her final attempt:
The grass was no problem for Mad Racer #2. This fast little car took off right away. The problem was that it seemed to have a mind of its own. It wanted to spin and do wheelies, but wasn't easy to steer. Small pirates don't have to play by all the rules and he cleverly finished the course just in the nick of time.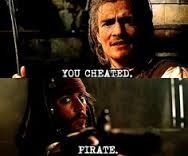 He ended up winning the medal for "Best Course Completion".