Saturday, Oct. 15, 2016 was the third running of the Royal Renninger Races, the Splendid Teapot Races at Renninger's Steampunk Industrial Show. Each race we have run at Renninger's has been unique for the track surface and the weather conditions. Our first race was on short grass and hard packed dirt, with perfect weather. Our second race was on the road, on a very cold and windy day. This one was on foam mats, which I think made a nice surface, although a very compact track, on a day when we kept getting short, but torrential, rain showers.
All but two of the racers had competed in the obstacle course, when the skies opened up and dumped so much water on us that we were forced to call an intermission and our judges had to dash off to check on musical equipment that had been left on the stage.
Some of the obstacles for the race course had to be quickly grabbed and brought undercover and our audience disappeared in search of shelter.
When the rain stopped, Lady Piper's Bubble Carriage, built and operated by Katie Sawyer, was the first to race.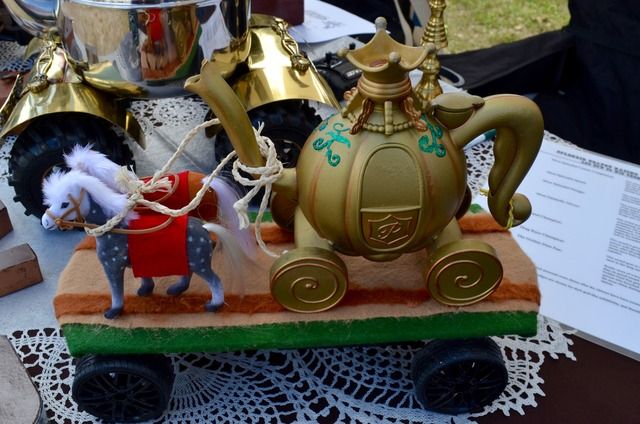 A bubble blowing teapot was something new to Renninger's.
Our judges for the race were Renate Goodwin and John Sprocket from the band, The Cog is Dead. This was Renate's third time judging and John's first. They both did an excellent job!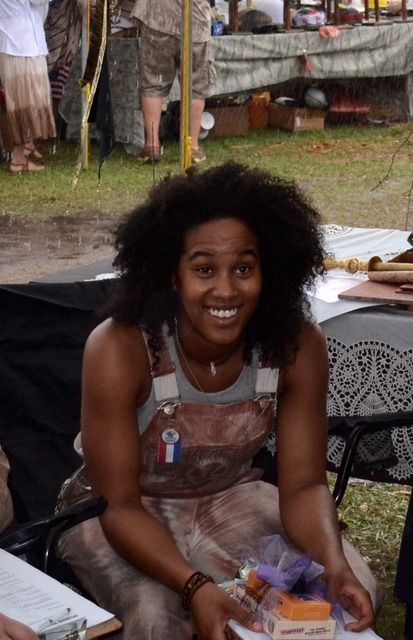 The presenting of the judges' bribes (fancy bottles of bubbles):
Preparing to race.
The pit crew does some final tweaking:
Katie may have invented the new Splendid Teapot Racing Drinking Game. The rules are simple, every time you manually assist your vehicle, you take a drink. Luckily, Katie only had to touch her racer once.
She needed her wits about her, since some of the candlesticks had been shifted during the rain intermission and it took extra skill to get through the candlestick slalom portion of the track.
Lady Piper's Bubble Carriage completed the course in 1 minute and 49 seconds.
The judges awarded extra points for the quality of the bribe and showmanship.
Despite drinking and driving, "Bubbles" went on to earn the most points over-all and took home the Grand Champion trophy provided by Renninger's Mount Dora Flea Market and Antique Center.
This will forever be known as "the teapot races where it poured"
-pun provided by Blaze
Save
Save
Save
Save
Save
Save