We had a good turn-out for day two of Splendid Teapot Racing at the Big River Steampunk Festival in Hannibal, Missouri, but a lot of the credit for that goes to the Porter Family. This family of four each built and raced their own teapot racer and each member of the family had a unique vision for their vehicle.
Mom, Crystal Porter raced "Grandma's Tea Party". This cute little tea party on wheels, with its pompom topped antenna, struggled a little on the ramps, but completed the course in 1 minute and 22 seconds.
It required manual assistance twice, but Crystal attempted to earn back those points through complimenting the judges. Looking at the score sheets, flattery seems to have worked on both judges.
Dad, Matt Porter raced "Grandpa Tea Pot". This entry had everything you'd want to see in a Splendid Teapot Race, style, spills, speed, and suspense.
Matt making an audience member laugh before the race.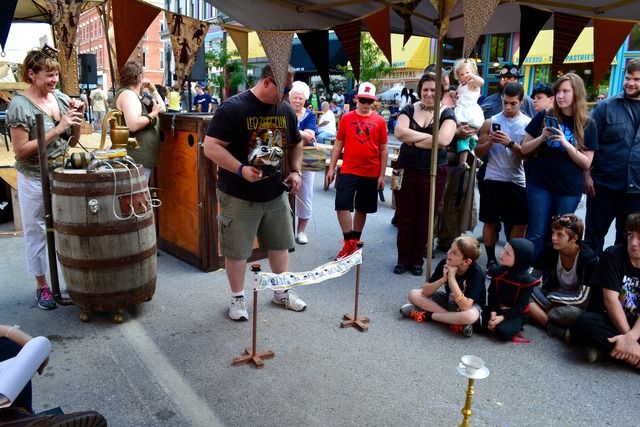 He completed the race in only 1 minute, 7 seconds.
Teenage daughter, Madelyn Porter raced "Cinderella's Escape". Cinderella managed to escape the obstacle course in 1 minute, 42 seconds, but she met with many difficulties along the way and required a few kicks in the bumper to keep going.
Teenage son, Alex Porter raced Morning Tea. This little chicken teapot was wide awake as it raced through the course.
I have an apology to make to Alex Porter. Something went wrong with my camera when I tried to record his race. It shut off after taking a one-second video. What I managed not to capture was an amazing 52-second course completion with all the hazards successfully negotiated and not a single manual assist. This was the fastest teapot racer of the day.
A screen capture of the one-second video:
Save
Save
Save
Save