The Earl Grey was the old veteran racer at the Big River Steampunk Festival's Splendid Teapot Races. It had traveled a long way to get to Hannibal, Missouri and had experienced a pretty adventurous year before arriving there.
As far as we know, Earl Grey was the first teapot racer to be built in Florida, although several others quickly followed.
This pirate themed teapot racer was built by Lisa Rooney and Aidan Harwood and raced by Aidan. Its tiny crew consists of Captain Green, his daughter Jasmine, Mr. Brewer, and Mr. Baker.
It won the Grand-Champion trophy at its first two races at Renninger's Steampunk Industrial Show in Mount Dora, Florida, but has not done as well in subsequent races.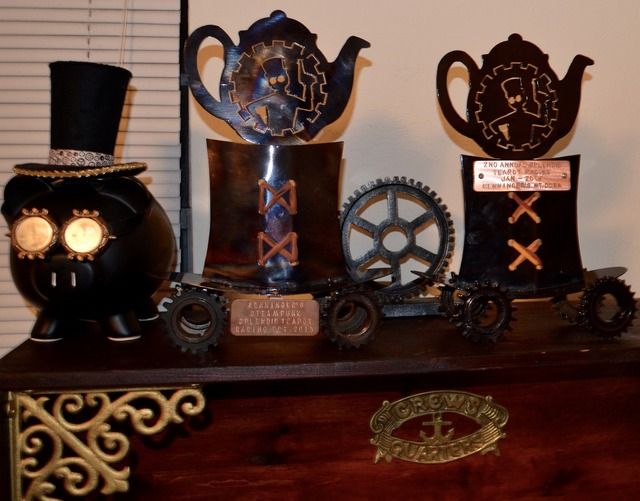 It is possible that damage was done to the suspension while the Earl Grey was having this dirt track experience. It did look majestic as it went off that jump and sailed through the air, landing upright, though (repeatedly).
It was already not preforming at its peak, when it competed in New Jersey at the Steampunk World's Fair.
In Hannibal, the Earl Grey did get quite a workout. Aidan used it to demonstrate teapot racing to people passing the registration table and competed in the races both Saturday and Sunday.
As you can see in this picture, even before the races, it had started tilting dramatically to the right.
By race time, it had become hard to steer.
Even good judges' bribes can't erase all sins, but Aidan tried:
On the second day of racing, Aidan won the coveted "Most Dastardly Driver" medal for most entertaining cheat.
At least for now, the Earl Grey has retired. Aidan has come up with a new idea for a teapot racer and he and his mother are in the early stages of planning their next build.
Save
Save
Save
Save
Save
Save
Save
Save
Save
Save
Save
Save
Save
Save