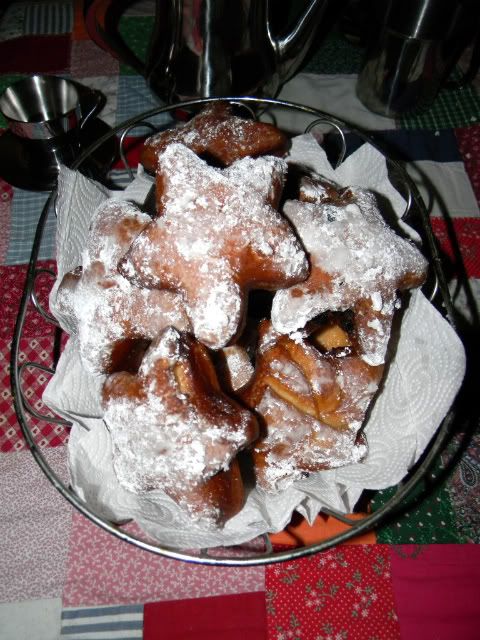 For a 4th of July treat, I made yeast risen doughnuts, using a recipe from the 1887 White House Cookbook. The recipes are not written using modern standard measurements, so I had to change it a little.
Here is the original:
My version:
2 Cups of warm milk
2 Tablespoons of yeast
1/2 Cup (one stick) of melted butter
1 Cup sugar
1 teaspoon salt
1 teaspoon cinnamon
a pinch of nutmeg
2 eggs, well beaten
6-8 Cups of unbleached white flour
vegetable oil (to replace the lard when frying)
Add yeast to warm milk and gently stir together. Let sit until the yeast is activated and forms a light "sponge". Add butter, sugar, salt, cinnamon, and nutmeg. Stir. Add eggs and stir well. Add flour until a bread-like dough is formed. knead on a floured board. Cover and let rise for one hour. Punch down, Roll out dough to about an inch thick and cut into desired shapes ( since it is the 4th of July, I cut mine into stars, but a standard doughnut shape will fry more quickly). Let the doughnuts rise for about 15 minutes before frying. Deep fat fry in hot vegetable oil. Sprinkle with powered sugar soon after removing from the oil or cool completely before adding a glaze to the tops.