I think this would be wonderful for a tea party or a Willy Wonka themed party.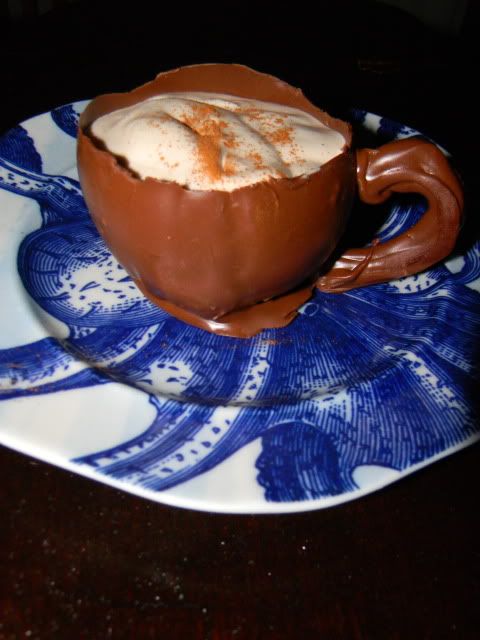 Making chocolate tea cups is fun and simple. It starts with covering a large cookie sheet with parchment paper and blowing up a dozen dollar store water balloons (just with air, not water).
Next finely chop 4 cups of milk chocolate (for nicest texture, the thick chunks or bars of chocolate work best for melting). Melt three cups of the chocolate in a double boiler. Once it is completely melted, remove from heat and stir in remaining cup of chocolate. Stir until it is all melted and glossy. Dip each balloon into the melted chocolate, covering the lower half of the balloon. Set the balloons on the parchment paper to cool and harden.
Set the balloon covered cookie sheet in the refrigerator for about 30 minutes.
While the chocolate on the balloons is setting up, use any left over melted chocolate to make tea cup handle shapes on a separate sheet of parchment. Refrigerate.
Then, here comes the fun part, with a pair of scissors, snip the top of each balloon to let the air out. Once it has deflated, it should be easy to remove the balloon from the chocolate shell.
Attach the handles to the cups by using just a little melted chocolate as "glue". Place the cups back in the refrigerator until ready to serve.
Chai Mousse
One pint of heavy whipping cream (whipped and chilled)
3/4 Cup cold water
1 envelope of unflavored gelatin
1 Cup Big Train brand instant spiced chai (if you live in Florida, this is available at Fresh Market)
Place cold water in a small sauce pan and sprinkle gelatin over the water. Let it sit for 5 minutes. Add chai powder. Turn heat on under the gelatin water (med.) and begin heating, while stirring constantly. When it is hot, but not yet simmering, remove the pan from the heat. Let it cool for 10-15 minutes, stir occasionally. Slowly add half of the chilled whipped cream to the chai mixture, stirring gently. A spoonful at a time, fold the chai mixture into the whipped cream that is still in the bowl. Chill for about an hour, stirring occasionally . Serve in a chocolate tea cup (or in a china tea cup). Garnish with a sprinkle of cinnamon.