Yesterday, I only posted my pre-parade pictures because photobucket stopped cooperating in the middle of downloading my pictures. So, make yourself comfortable, here come the rest.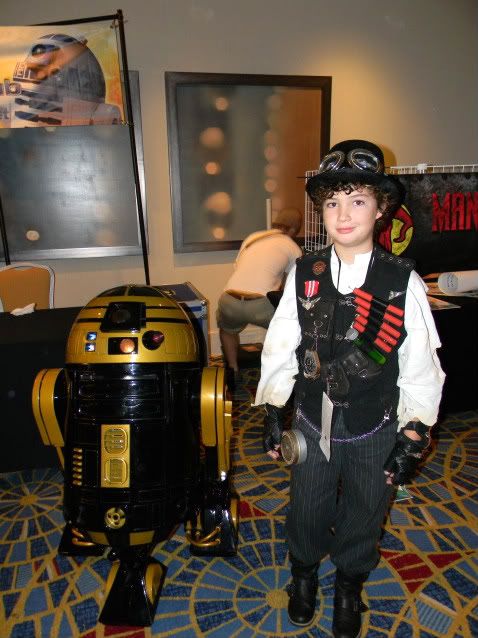 Abney Park put on a fantastic concert at midnight on Saturday. I'm sure someone out there has better pictures of it than I do.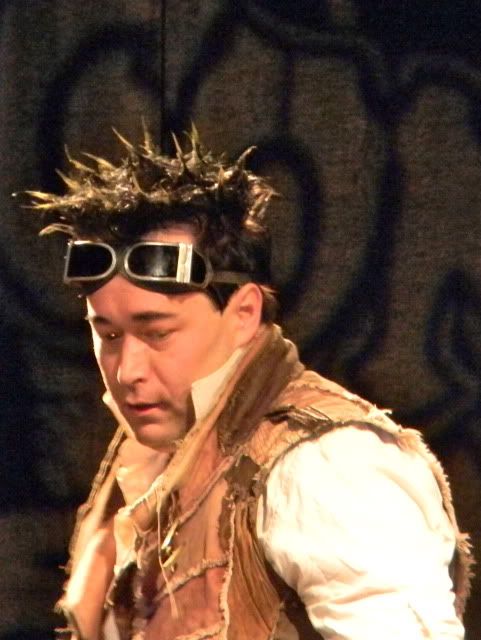 Blaze not only managed to stay awake for the show, but it was hard to get him to settle down and go to sleep when we got back to the hotel around 2 a.m., because he was so excited.
The Steampunk Exhibition on Sunday afternoon: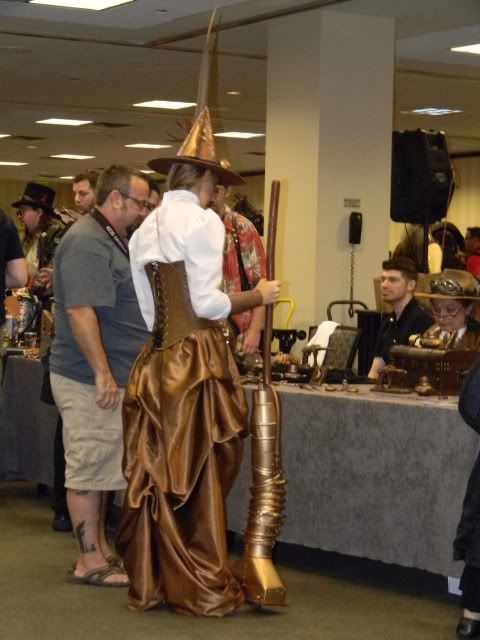 He was really a very good prop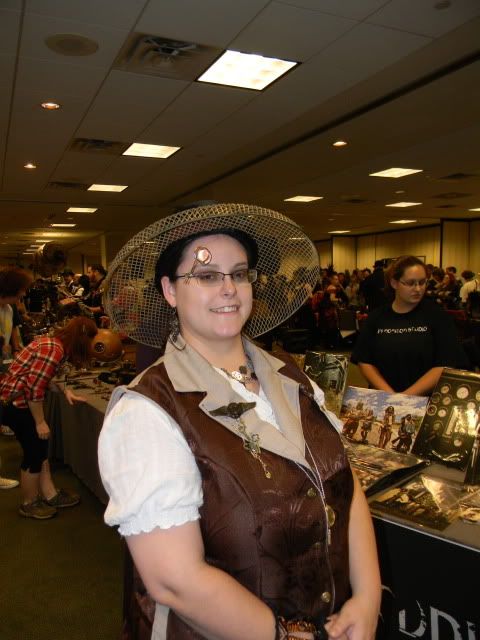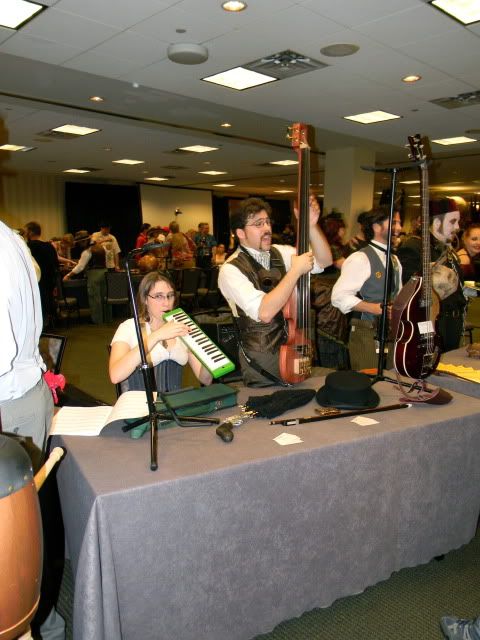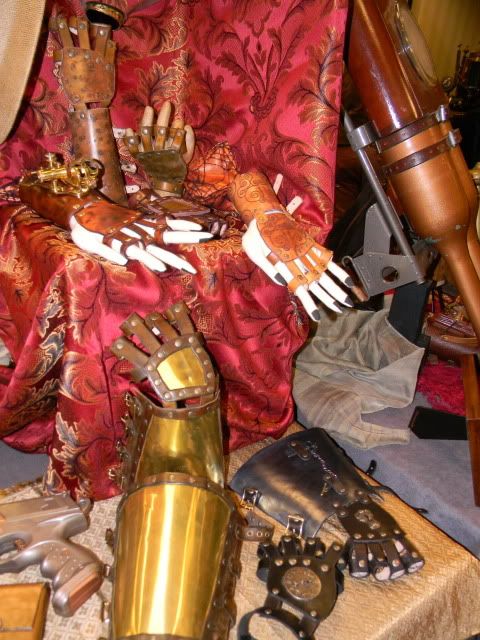 If anyone doubted the growing popularity of steampunk, just look at this crowd. Every few minutes, announcements had to be made asking people not to loiter for too long, because the room had reached capacity and more people were waiting to get in.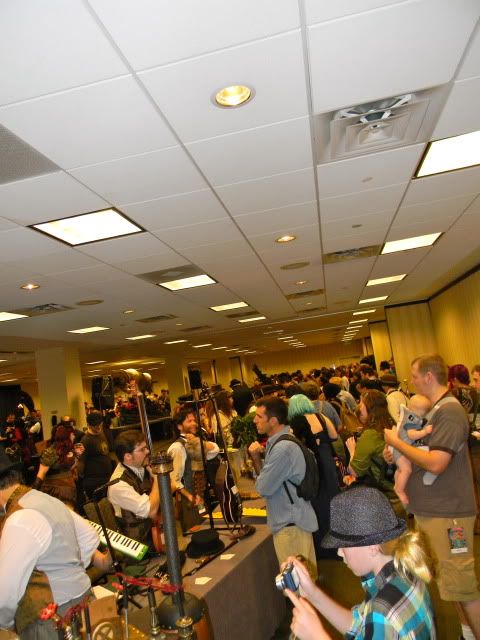 A short break for dinner:
Then back to the Westin Hotel for the Guiness Book of World Record attempt for most people in steampunk costumes.
Getting ready to go stand in line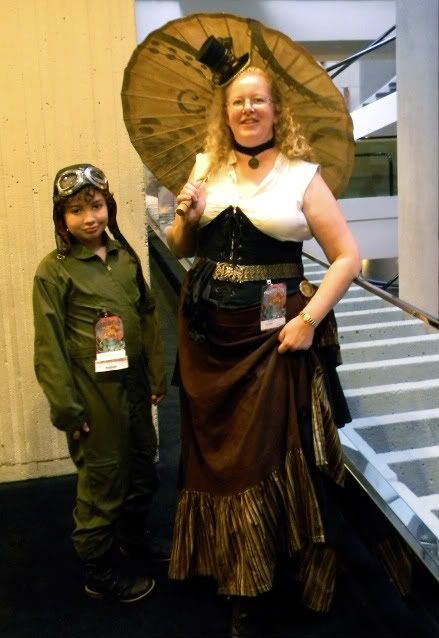 Standing in line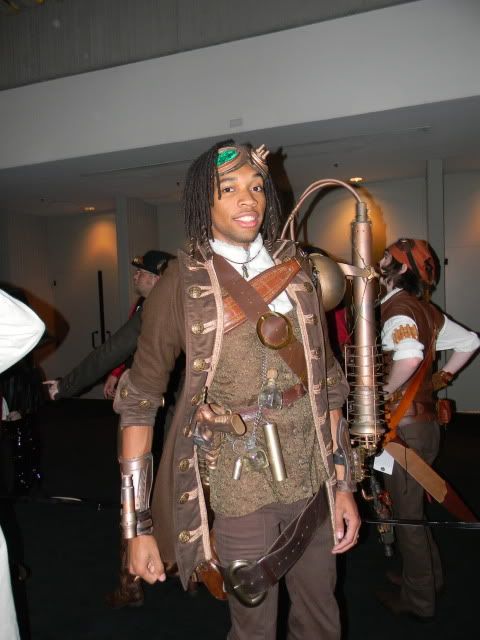 Not everyone who showed up was deemed steampunk enough to enter the ballroom for the count. Oddly enough, the members of Abney Park were turned away, even though they were in costume, because they had no mechanical gadgets with them and Guiness had set that as one of the rules for being steampunk. In hindsight, I wished we had all walked out, in solidarity with them at that point. Being part of a rebellion would have been more fun than the long tedious attempt to get us all into straight rows to be counted in the ballroom. There were no lines marked on the floor to help with this procedure, so a woman on the balcony yelled instructions at us for quite awhile. Blaze's lack of sleep finally caught up to him several minutes into this. He looked up at me and said, "If we don't win, I'm going to cry." Then the tears started pouring. It was very hard for him to get himself back under control again. In the end, we did beat out the previous record, set by Comic Con.
The huge panoramic picture of the entire world record setting group can be found here:
http://gigapan.org/gigapans/86450/
Each individual can be zoomed in on, just like Google Earth. Blaze and I are in the second row (Blaze is smiling. I wish I had smiled at the right time).
The Pirates and Time Travelers Ball:
Monday we returned home, despite being lost in Atlanta for two hours and then having to drive through Tropical Storm Lee to get here.
Blaze's new Abney Park poster has already replaced Harry Potter on his bedroom wall.