About the middle of last week, Blaze announced that we needed a holiday and that Monday (today) would be Cowboy Day. He reminded us about this all weekend. So...
This has not been an excuse to get out of school work. He's been doing all of that, too, but he's been doing it while dressed in his Tesla Ranger costume.
There have been cowboy activities too, though. We finished reading The Original Adventures of Hank the Cowdog and discovered that there are online games related to the book.
http://
www.hankthecowdog.com
/games
For art, Blaze colored a chain of paper cowboys to hang on the wall.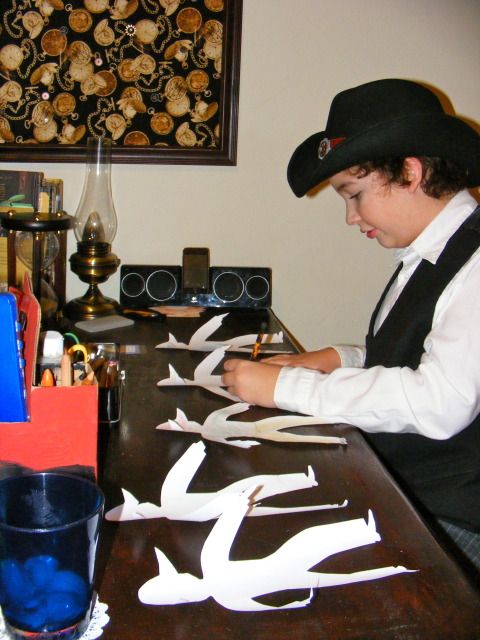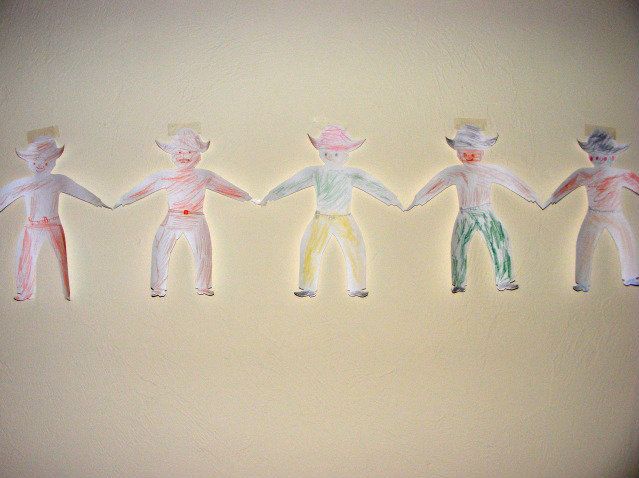 For our lunch break, we watched the newest episode of Dr. Who, entitled "A Town Called Mercy", which is set in a wild West town
and ate a bento lunch with a cowboy theme, kind of East meets Wild West.
The lunch included a hardboiled egg, shaped like a sheriff's badge, seasoned black beans (a cowboy meal has to contain beans), a cowboy boot and hat, both made of sweet rice and colored with soy sauce, beef jerky, and a celery stick "cactus".