Our bedtime reading for this week is The Invention of Hugo Cabret, by Brian Selznick ( The winner of the 2008 Caldecott Metal Winner).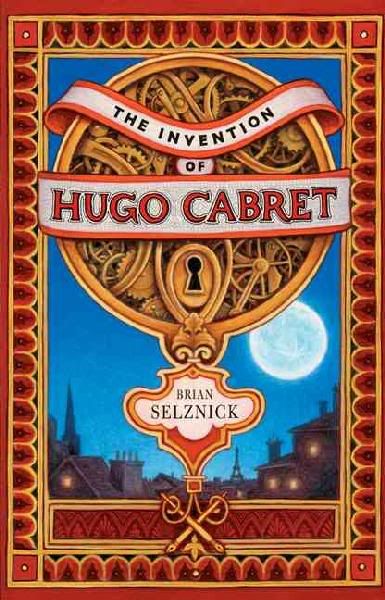 It is a surprisingly thick book, but don't let that intimidate you. Most of those pages are taken up with lovely pencil drawing that make the book feel as if you are watching a black and white, silent film, which is precisely the idea. Early film making plays a large role in the story. This makes it a good follow-up to our lessons about Thomas Edison and the first films that told stories. The most important movie in the story is the 1903 French film "Le Voyage Dans La Lune" ( A Trip to the Moon), by George Melies, because Melies is an important character in the book.
Other films mentioned in the book are Safety Last, a 1923 movie starring Harold Lloyd, and The Clock Store, a Disney cartoon from 1931.
This is the most memorable scene from Safety Last, and the one mentioned by Hugo Cabret in the book:
The Clock Store:
The story of Hugo Cabret is that of an orphan boy, who had learned how to fix clocks and other mechanical things from his father, who owned a clock shop and repaired things for a local museum. Hugo's father had been trying to repair a mechanical man in the museum attic at the time of his death during a fire that burned down the museum. After his father's death, Hugo finds the automaton (mechanical man) and feels compelled to fix it, hoping all the time that he works on it that it will give him a message from his father when he completes it.
More information about this book and it's author can be found at the official
The Invention of Hugo Cabret
website:
http://www.theinventionofhugocabret.com/index.htm
If you are planning to use this book as part of a language arts curriculum, you may be interested in the following site, which contains a free lesson :
http://www.highsmith.com/pdf/librarysparks/2008/lsp_nov08_LL_hugo_cabret.pdf