Cream Puffs
1/4 Cup butter
1/2 Cup water
1/2 Cup unbleached all-purpose flour
2 eggs
Preheat oven to 400 degrees F.
Heat butter and water in a small sauce pan, until it comes to a full boil. Stir in flour. Stir rapidly until the flour forms a ball. Remove from heat. Break both eggs into the pan and quickly stir into the flour mixture until it forms a smooth dough. Line a baking sheet with parchment paper and drop 9, evenly divided blobs of dough onto the paper. Bake until golden, about 30 minutes. Cool.
Cut the tops off of the cream puffs and pull out any soft bits of dough. Fill the bottom half of each puff with whipped cream and sliced fresh strawberries. Replace tops and enjoy.
This same dough can be used for making eclairs.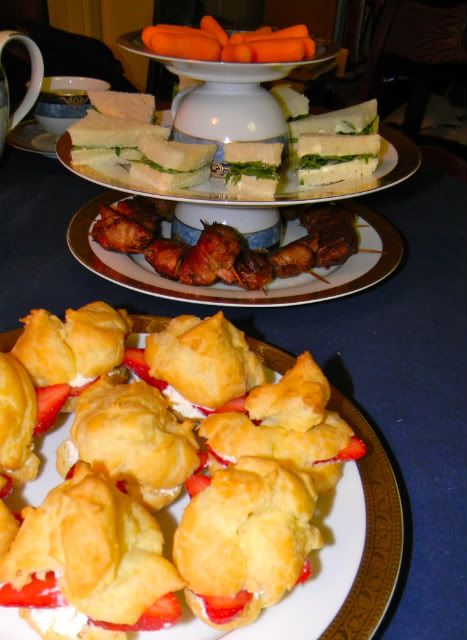 Rumaki was a party food that my mother made when I was a child. I believe it was a very stylish thing to have at your cocktail party in the late 60's and early 70's.
Rumaki
1 pound of bacon with the strips cut in half
1 pound of chicken livers, also cut in half
1 can of whole water chestnuts, drained and cut in half
1/3 soy sauce
1/2 teaspoon ground ginger
Wrap a water chestnut half with chicken liver. wrap that tightly with bacon and secure with a toothpick. It will stay together better if you are careful to make sure the toothpick goes through the water chestnut. Repeat until all the bacon is gone. Mix soy sauce and ginger together and marinate the rumaki in the soy sauce mixture in the refrigerator for 30 minutes to an hour.
Pre heat oven to 375 degrees F.
This recipe will make 2 batches, since the rumaki should be spaced out on a baking tray so it doesn't touch. Bake each batch about 25 minutes.
A woman is like a tea bag - you can't tell how strong she is until you put her in hot water.
~Eleanor Roosevelt~