Using
this recipe for sugar cookies
, I made Easter bonnet cookies.
These are very easy to make, but a bit time consuming. The dough must be made a day ahead and refrigerated. Then you will need to make large round cookies and small round cookies.
Sugar Cookie Icing
1 1/2 cups powdered sugar
4 teaspoons milk
4 teaspoons light corn syrup
1/2 teaspoon almond extract
assorted food coloring
Mix sugar, milk, corn syrup, and almond extract in a small bowl. Stir until smooth and glossy. Divide into two or three bowls and add food coloring.
Use the icing to glue one small round cookie to the center of each large round cookie.
Put some icing on each cookie/bonnet and use a small clean paintbrush to move the icing around and smooth it out.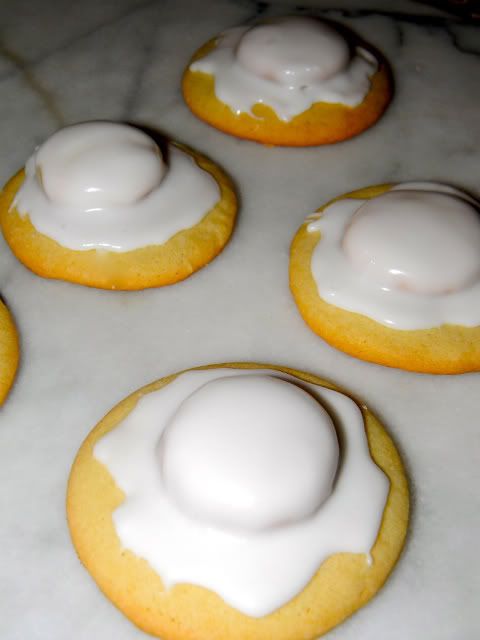 After the icing has dried, use buttercream frosting and a pasty bag fitted with a small round cake decorating tip, to make the ribbon around each hat.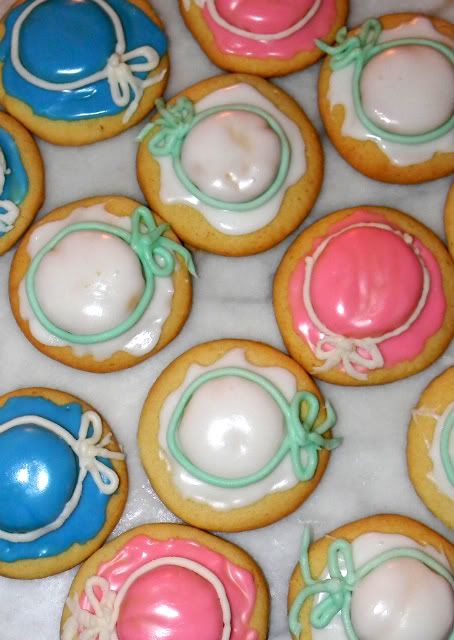 For a more manly variation on the cookie hat theme, I used some of the extra scraps of dough and rolled small balls (about the size of a large marble) and gentle flattened one side of the ball onto the baking sheet. After it was baked, this was "glued" onto a medium size, round cookie, using melted chocolate. More melted chocolate was used to cover the hat, and a paintbrush was used to smooth it and removed excess chocolate.
The pith helmet cookie: