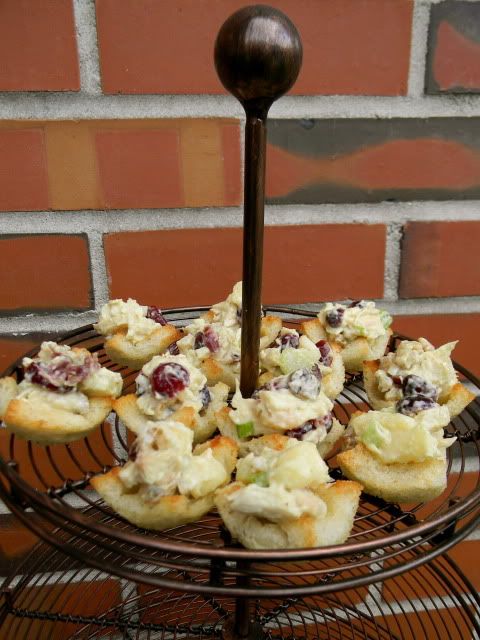 Cranberry-Apple Curried Chicken Salad
1 crisp apple, cored, peeled, and cut into small chunks
2 Tablespoons lemon juice
2 Chicken breasts, cut into small pieces
2 stalks of celery, thinly sliced
3 green onions, thinly sliced, including green tops
1/2 Cup roughly chopped walnuts (optional)
1/2 Cup craisins (dried cranberries)
1 Cup mayonnaise
1/2 teaspoon curry powder
dash of black pepper
In a large mixing bowl, combine the apple pieces and lemon juice. Gently toss to coat the apple with the juice (this will keep the apple from turning brown). Add the rest of the ingredients and toss until everything is well blended. Cover the bowl and refrigerate over night to help all the flavors meld together.
Although the chicken salad makes a wonderful sandwich filling, the little toast cups are easy to make and are a prettier, more unusual presentation.
Preheat oven to 375 degrees F.
Using thin sliced, square shaped bread, remove crusts and cut each slice into four even squares. Brush both sides of each square with melted butter. Press each square into a mini muffin cup, making sure the corners of the bread still points upward. Bake for 5-6 minutes, until the toast points are lightly brown. Cool in the muffin cups. Fill with chicken salad and serve.
I was inspired by a couple recipes in the current issue of Tea Time magazine, but I have played with their original recipes and made them my own.