The Florida Steampunk Society has announced the first contest to get everyone ready for the Steampunk Exhibition East. It is a mask making contest, to prepare us for the Masquerade Ball, Friday, April 13th.
Here are the rules:
Rules: Mask must be made/ decorated by the participant. Total material cost should be $20 or less. Masks must have a Steampunk/ NeoVictorian look.
Deadline: 5pm EST Friday March 30, 2012.
Submissions: To submit your mask please post photos of it on the Florida Steampunk Society Facebook page and e-mail photos to steampunkgrandbazaar@gmail.com with a list of materials and total cost.
Winner will be decided by a vote among the Society members and the winner will receive the coveted Florida Steampunk Exhibition East pin.
(Prizes will be distributed at the Exhibition registration table.)
Blaze wanted to enter, so as soon as we got home from baseball this morning, we started working. I already had a pattern for a Lone Ranger style mask, so we used that and some scrap leather for the base.
The little studs that he glued around the edge of the mask, used to be on a shirt that I had. When I realized the shirt was too worn out, I tore the studs off, knowing they were be useful again.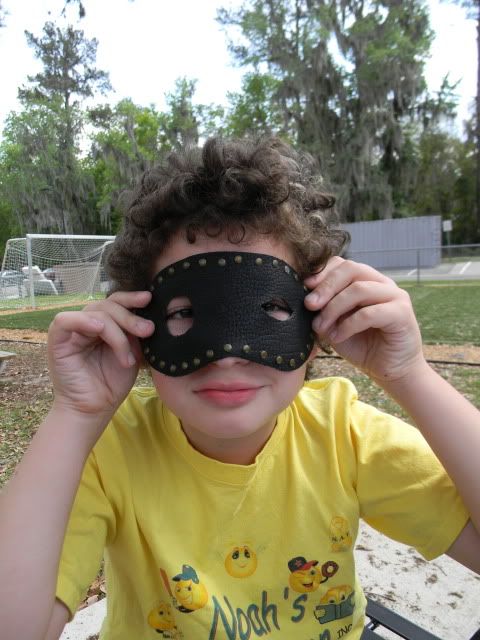 The camera lens has been floating around the apartment for about a year. We found it in the "free box" in our apartment complex laundry room, but hadn't found the right project for it, until now. Blaze asked for me to paint "cross hairs" on the lens.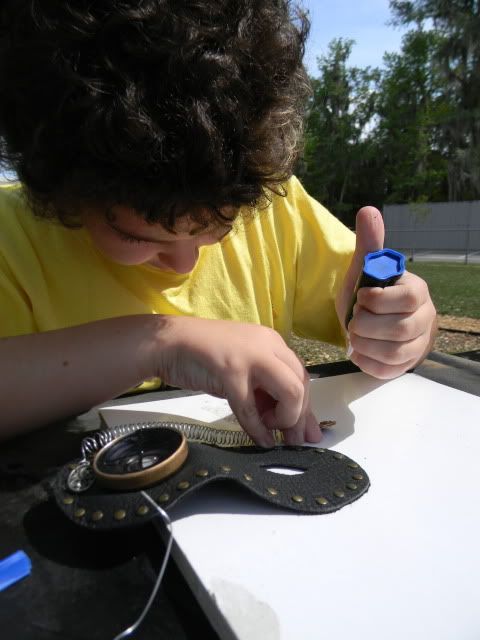 Super Glued finger: