This is my entry for the mask making contest I mentioned in my last blog post.
I started out with a plastic mask from the craft store and covered it in the stained cheese cloth that had been used for the Christmas fruitcake. I dampened the cheese cloth with warm water and covered it with liquid starch.
I accelerated the drying time by placing the mask on parchment paper on a baking sheet and sticking it in the oven, set on warm.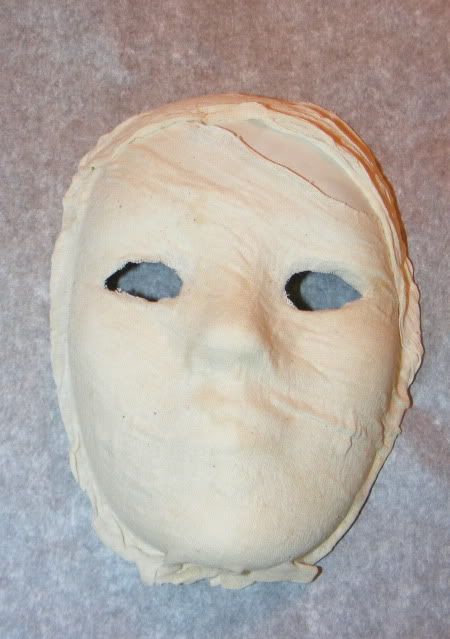 When the fabric was dry, I trimmed off some of the extra and glued the edges behind the mask. The starch worked very well to hold the cloth to the plastic mask, as well as stiffening.
Next, I painted on the facial features. I used crackle paint to give it more of an aged and abused look, but it didn't work very well.
I also colored the opening I had left in the fabric (on the doll's forehead) a copper color and glued on gears and stuffing, to make the point that she is a stuffed doll with clockwork inside.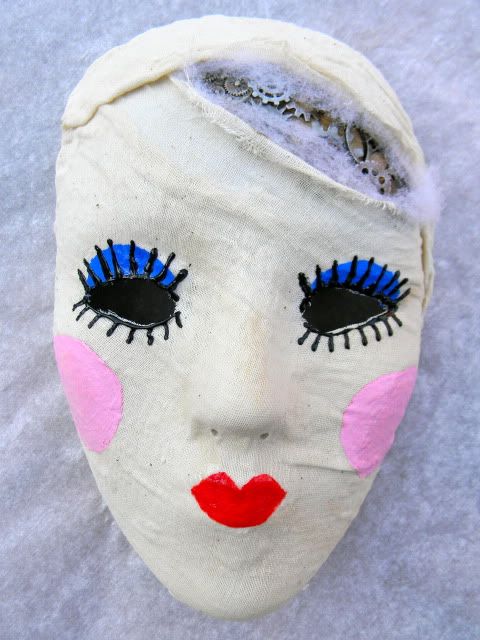 A wet tea bag was used to add a little "dirt" to the face.
Instead of adding an elastic strap to hold the mask on, I attached a stick to the side of the mask.
The wig is made out of one of DH's old knit hats and two colors of yarn.
I hemmed up the hat and used the edge of the hem as a guide line for sewing on the bangs.
The human wig stand I used to cut the bangs straight:
(I don't think he's permanently scared by this.)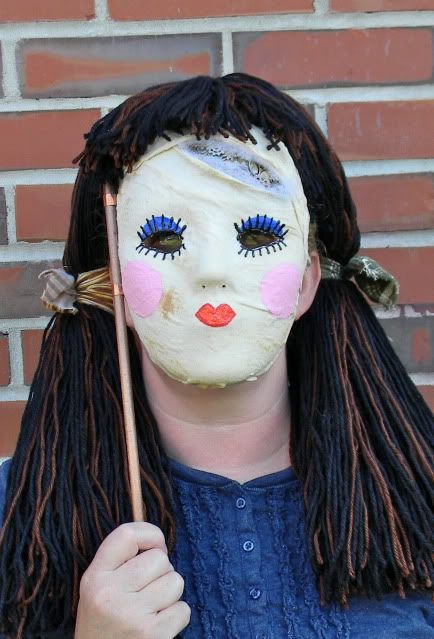 Blaze even came up with a reason that a Tesla Ranger is hanging around with a mechanical rag doll. He says, "A little girl has been kidnapped by the robots." I am the little girl's beloved doll. She held on to me, dragging me behind her for some time, before I was ripped from her hands and tossed aside. The Tesla Ranger found me while following the trail of the robots and he plans to return me to the girl when he saves her.