I recently returned from the craft store with a silicone Wilton's Bite-Size Brownie Squares pan, not because I wanted to make bite-size brownies, but because I wanted to see if it would work for making petit fours. The little cakes I made are a little bigger than standard petit fours, but they are all a uniform size and shape, without any hassle, so I am declaring this experiment a success.
I love marzipan, and the baking marzipan was on sale when we went to World Market last weekend, so my trial batch of petit fours was made using this wonderful almond cake recipe. This recipe can be used for other sized cakes, as well, but baking time will have to be increased.
Almond Cake
1 Cup unbleached all-purpose flour
1 1/2 tsp. baking powder
1/2 tsp. salt
8 oz almond paste
1 1/3 Cups sugar
1 Cup butter (room temperature, cubed)
1 tsp. vanilla extract
1 tsp. almond extract
6 eggs
1/4 cup strawberry jam
Preheat oven to 325º.
1. Place 1 Cup flour into a small bowl. Add the baking powder and salt and mix. Set aside.
3. Place almond paste and sugar in the bowl of a stand mixer. Using the paddle attachment, beat the mixture is well blended.
4. Add the cubed butter, vanilla extract, and the almond extract to the almond paste mixture. Beat the mixture until it is smooth.
5. Add the eggs one at a time, beating well after each addition. Gradually beat the flour mixture into the almond paste mixture until the two are well combined.
6. Spray silicone brownie pan with non-stick baking spray. Fill each cavity in the pan about 3/4 full.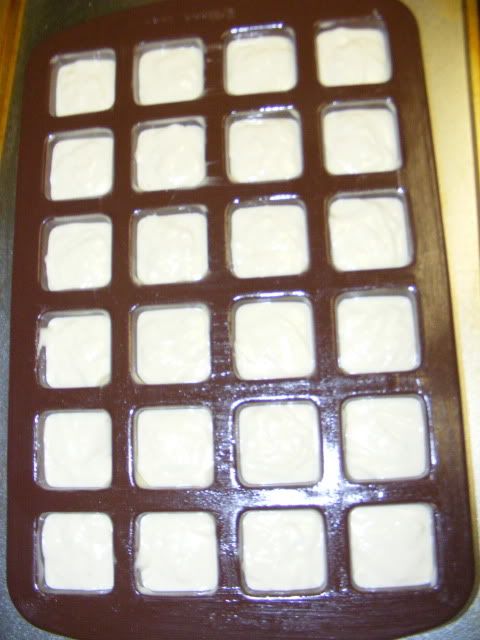 There is enough batter to fill the pan three times, creating three dozen little layer cakes.
7. Bake 25-30 minutes.
8. Let cool slightly. To be sure the little cakes are evenly flat, use a bread knife to cut the tops of the cakes even with the pan ( the cake tops are very tasty and not to be wasted). Flip pan over to remove cakes.
9. Place several cakes on a piece of parchment paper. Heat strawberry jam for 30 seconds in the microwave. Stir. spoon a little jam onto the top of each cake. Place another cake over the top of the jam, creating a second layer to each cake.
10. Spoon icing over the top of each double layered cake. Let sit until the icing sets up (over night works well).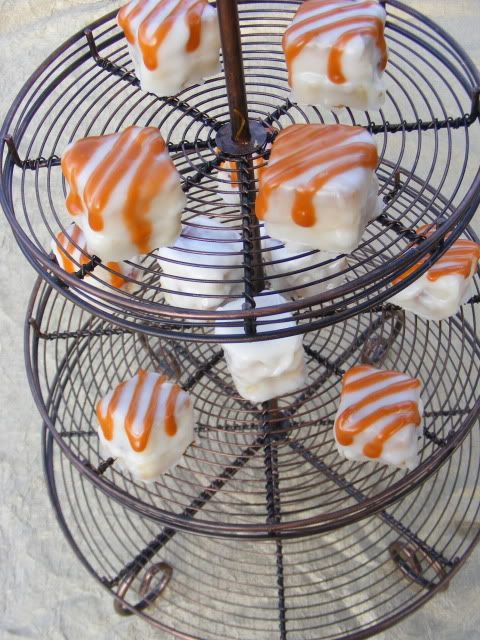 I used the petit fours icing recipe from Martha Stewart:
http://www.marthastewart.com/335566/petits-fours-icing
My recommendation, is to let the icing sit a bit longer than the 8 minutes recommended by the recipe, especially if the weather is hot and humid, like it is here.