Some of you may remember that Blaze asked Santa for a sewing machine this past Christmas, this is the reason why.
Sometime around November, I decided that it was time for Blaze to learn how to do hand-sewing on a wearable project. Both of his sisters were required to do that when they were eight ( Ula made a skirt and Nika made an apron), and Blaze was only a month away from no longer being eight.
He went with me to the fabric store and we picked out a simple pajama bottom pattern and he got to choose the flannel that the pajamas would be made out of.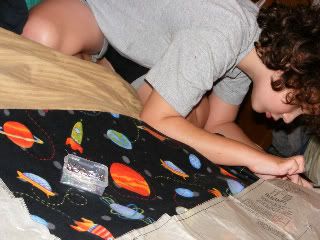 At first he was excited about this project, but it was very slow moving. He just didn't have the patience or dexterity that his sisters had at that age. This is what motivated him to want a sewing machine of his own.
I've been happy with his new little sewing machine, too. He's been very generous about letting me play with it this past week. It's a small portable that doesn't have a lot of stitches, but it does everything he would need, and sews well, even through some pretty thick layers of fabric ( I was sewing ruffles onto a skirt earlier today). It's light weight and Blaze has already suggested that we could carry it along when traveling.
Sewing with Nancy Sewing Machine
Today, he finished the pajama bottoms. He really likes them and is very proud of himself for making them.