Sherlock Holmes' birthday was Jan. 6th. We celebrated by going out to afternoon tea at the Merlion restaurant.
We enjoyed our tea at the restaurant so much that this afternoon we had a little tea party at home.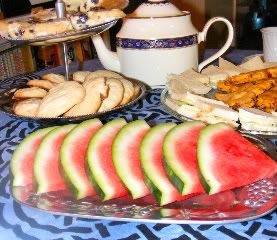 Here are some of the recipes we used: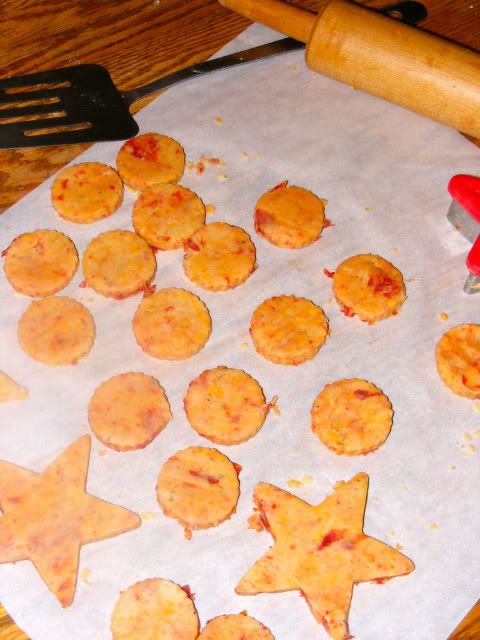 Cheddar-Tomato Biscuits
8-ounces of grated sharp cheddar cheese
3/4 Cup butter, softened
1/2 Cup smoked sun dried tomatoes (julienne cut)
1 teaspoon dry oregano
1/2 teaspoon salt
1/4 teaspoon ground black pepper
2 1/4 Cups unbleached all-purpose flour
Preheat oven to 350 degrees F.
Combine all of the ingredients in a large mixing bowl. Use your hands to squeeze the dough together. Roll out dough to 1/2 inch thickness and cut into desired shape with cookie cutter. Place on parchment lined baking sheet and bake until lightly browned, 12-15 minutes. Cool on a wire rack before eating.
( The star shaped biscuits were the ones we ate today, the round ones are the ones we are taking with for a picnic at Kingsley Plantation tomorrow.)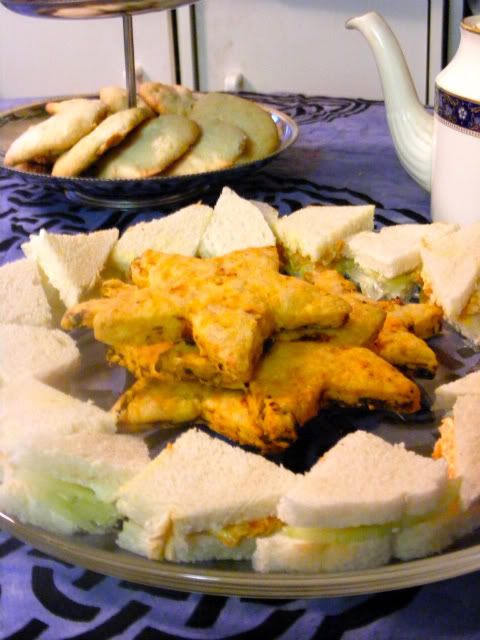 Ginger-Carrot Sandwich Spread
1 Cup grated carrots
2 ounces cream cheese, softened
2 tablespoons mayonnaise
1/4 cup finely chopped crystalized ginger (kitchen shears work well for this)
Salt and pepper to taste
Blend everything together. Use the spread between two slices of white or wheat bread, with crusts removed. Cut sandwiches at an angle to make 4 tea sandwiches out of every full size sandwich.
Almond Macaroons
12-ounces of slivered almonds
1 1/2 cups sugar
3 egg whites
1 tsp. pure vanilla extract
Preheat oven to 400 degrees F.
In a blender or food processor, grind the almonds into a fine powder. Add sugar and blend. Add egg whites and vanilla and blend again.
Drop by the teaspoon full onto a parchment lined baking sheet and bake for about 16 minutes. Cool on a wire rack.
They freeze well.