The gears have been turning, trying to come up with as many ideas as possible for a child's airship pirate/steampunk birthday party. This week my thoughts went to food, beyond the cake or cupcakes.
If I had a little girl who wanted a steampunk party, I would go with a tea party. I really like the idea of going around to all the area thrift stores and buying pretty teacup and saucer sets, so each guest has a unique teacup that is theirs to take home after the party.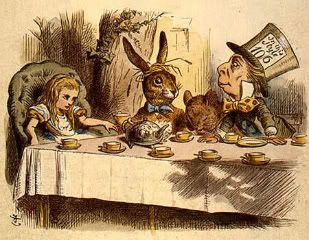 I wouldn't do that for a boy's party, though. Despite a long standing family joke about DH and Blaze having MANLY tea parties, I don't think that would go over well with the other little boys around here.
I think we need to stick to gears, airships, and pirates, with maybe a little "mad scientist" thrown in.
DH bought me a new set of candy molds from eBay, which have a transportation theme, and include a zeppelin. So, more fuel for my party planning obsession.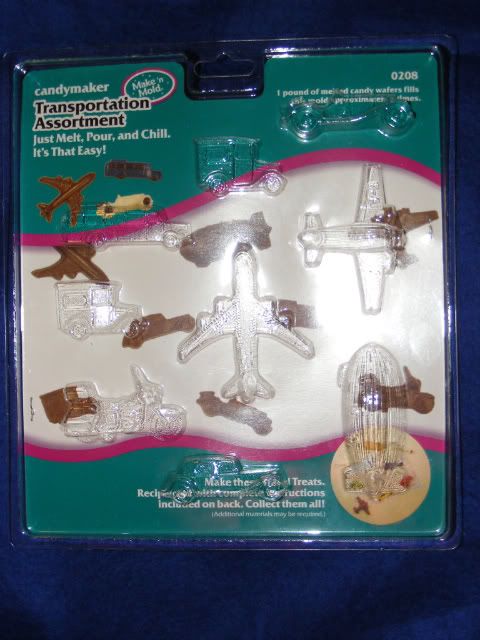 I tried out the candy molds last night, as treats while Blaze and I were watching the DVD of Chitty Chitty Bang Bang, and they came out beautifully.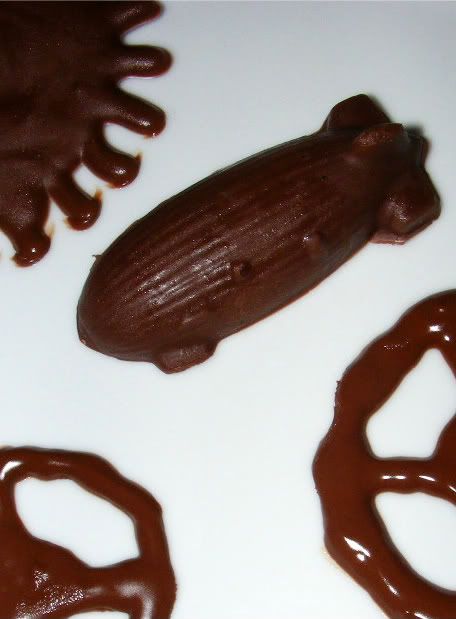 Even though the molds are not built for making lollypops, I was still able to make one.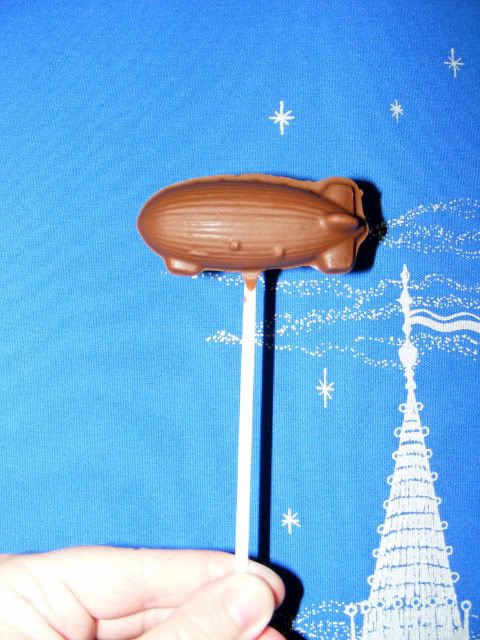 I also tested out a theory that I'd been wondering about for awhile. I put melted chocolate in a frosting bag and used it to trace the gear designs on the covering sheet of plastic from the stencil set I purchased from Michael's several months ago.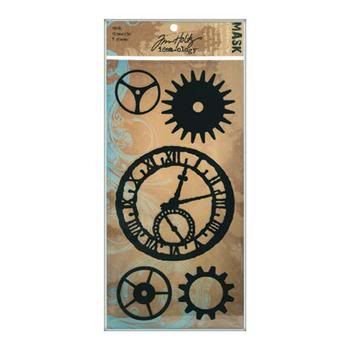 That also worked well, although this heat is not the friend of chocolate. Almost as soon as I removed my creations from the refrigerator, they would start melting. Hopefully, that will no longer be a problem by the time the actual birthday happens.
Other food treats that I will probably be using are
Cheese Gears
, a variation on the cheese cracker recipe I posted here several months ago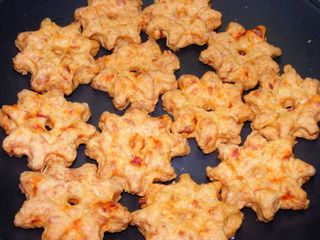 and the chocolate covered marshmallow top hats with goggles: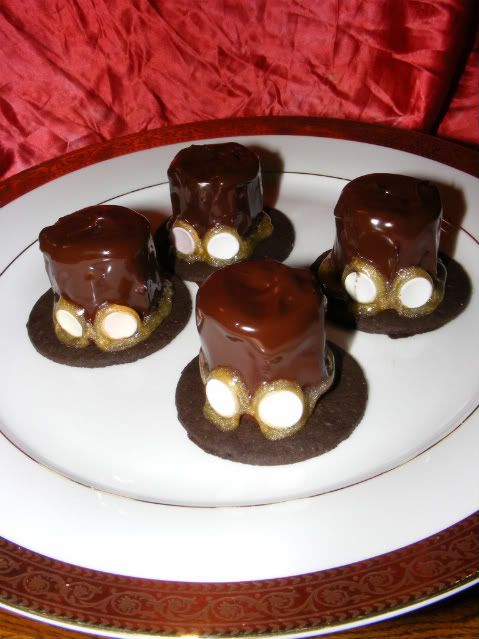 Gear Shaped Pasta Salad
1-pound box of Piccolini, mini wheels shaped pasta
3-ounces of julienne cut, smoked sun dried tomatoes
1 green bell pepper, chopped
1 small red onion, chopped (optional)
Parmesan cheese, to taste
Dressing:
1/3 Cup balsamic vinegar
3/4 Cup Extra Virgin Olive Oil
1 Tablespoon Dijon mustard
1/2 teaspoon garlic powder
salt and pepper to taste
Here is the snack mix I plan to serve. I have a plastic top hat that I picked up for under $2 at the Party shop, that I'm going to use as a serving bowl.
Nuts and Bolts Snack Mix
Green drinks and steampunk seem to go together, so here is a recipe for a child-friendly green drink:
Lime Milk Punch
For additional recipe ideas, there is a free online steampunk cookbook that can be found here:
Fuel for the Boiler