Nuts and Bolts
I think this recipe came from an old 4-H cookbook. It is a recipe for homemade Chex mix that I copied onto a note card when I was a teenager and have been making ever since.
6 Cups unsweetened ready-to-eat cereals (use at least two different shapes, such as bite-size biscuits, circles, or flakes) I have never used flakes
1 small box very thin pretzel sticks
1 small can salted or dry roasted peanuts
1 stick of butter or margarine
1 Tablespoon worcestershire sauce
1 teaspoon garlic salt
1 teaspoon celery salt
Preheat oven to 300 degrees F.
Mix together cereals, pretzels, and nuts.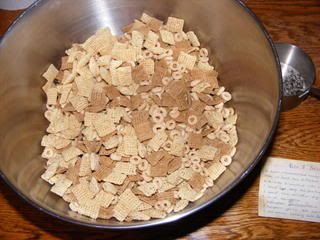 Pour into a large, flat baking pan.
Melt butter in a small saucepan with Worcestershire sauce and seasonings.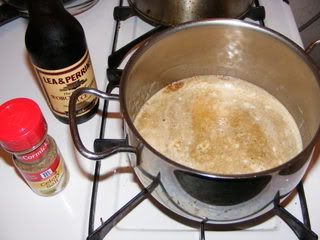 Pour butter sauce over cereal mixture, stirring cereal until mixture is evenly coated. Bake for 30 minutes, stirring occasionally. Cool. Store covered in a dry place.