Bloodshot eye eggs: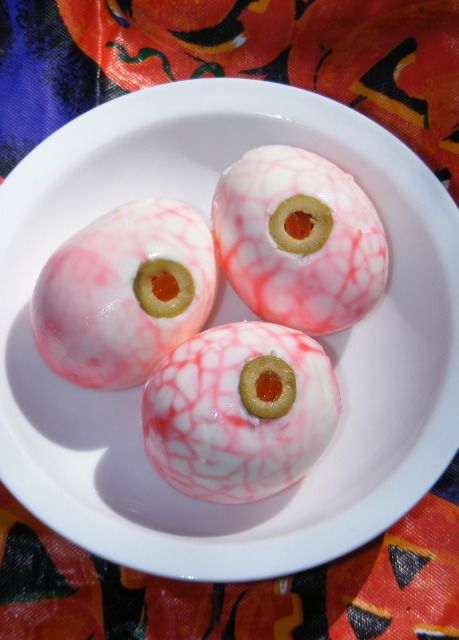 After hard boiling the eggs, crack the shells all over, but don't peel. In a small bowl,
mix 1 Cup of water, two teaspoons of cider vinegar, and two teaspoons of red
liquid food coloring. Put the unpeeled eggs in the red water for abo
ut 5 minutes.
Dry the outside of the egg with a paper towel and peel. I found it was helpful to
hold the eggs with a paper towel when peeling, so I didn't get red food coloring on
my fingers and smear it on the egg whites. When the eggs are peeled, use a small
knife to scoop out an olive size hole and put a half a green olive in the hole.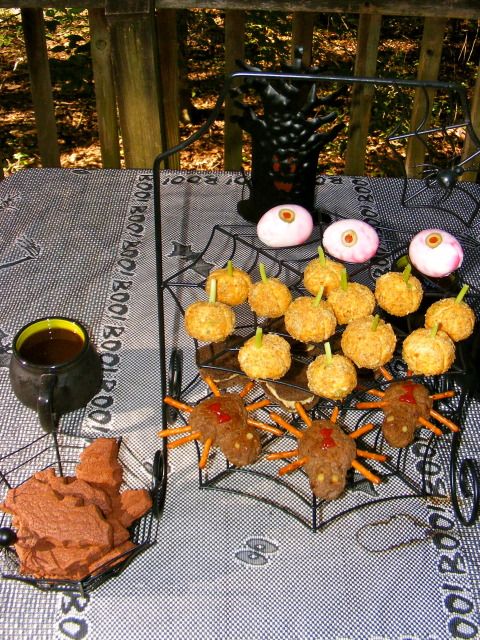 The little sandwiches are simply pumpernickel bread, cut into small pumpkin shapes using a cookie cutter (I was able to cut two pumpkin shapes out of each slice of bread. The filling is store bought hummus. Also on the bottom rack, there are black widow burgers. The eyes are white cheese, they have pretzel stick legs (each pretzel stick was broken in half to make it the right length), and an "hourglass" of ketchup.
Nutella Cookies:
1 Cup Nutella
1 Cup unbleached white Flour
1 egg
Mix all three ingredients until well blended. Roll out on a floured board to about
1/2-inch thickness (These cookies must be kept that thick or they will fall apart).
Cut out desired shape. Bake at 350 degrees F. for 7-8 minutes. Cool.
We only purchased one large pumpkin this year, but we each had a job in the
carving of it. Blaze drew several potential pumpkin face ideas on paper and then
chose the one he liked the best.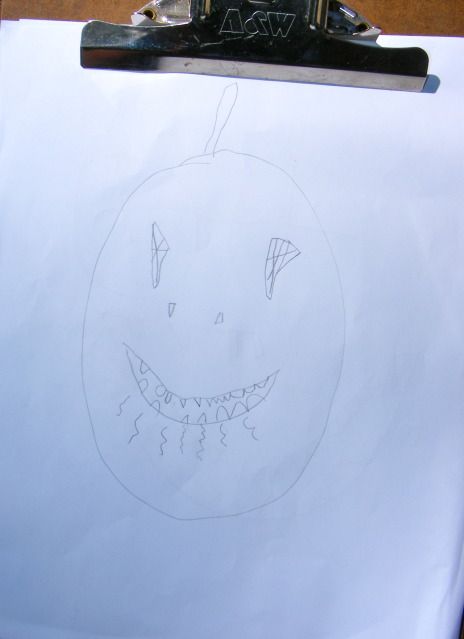 I had the job of scooping out the pumpkin "guts"
and DH had the job of carving the face to look like Blaze's drawing.