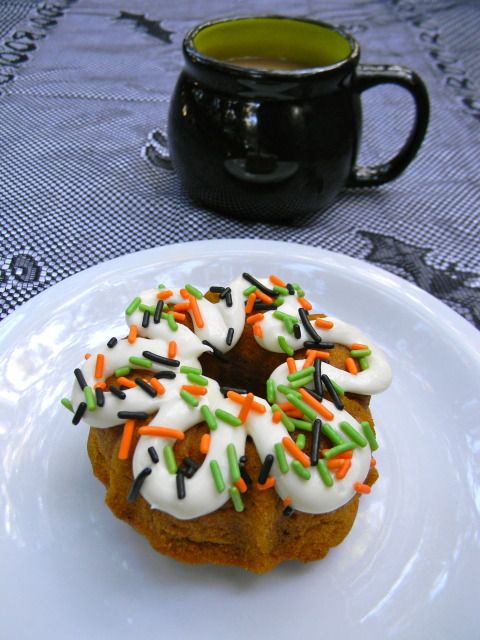 Pumpkin Cupcakes:
1 1/2 cups unbleached white flour
1 teaspoon ground cinnamon
1/4 teaspoon ground ginger
1/4 teaspoon ground cloves
1/8 teaspoon ground nutmeg
1/2 cup butter

, room temperature
3/4 cup canned pumpkin puree
Pre-heat oven to 350 degrees F.
Mix all of the dry ingredients in a small mixing bowl and set aside. In a larger mixing bowl, combine butter and sugar. Beat with an electric mixer until thoroughly mixed and creamy. Add eggs and vanilla. Beat. Mix in the pumpkin. Gradually add the flour mixture, beating all the time on low setting.
Use a non-stick baking spray or additional butter to grease muffin pans.
Bake for 18-20 minutes. Cool before decorating with cream cheese frosting.
Cream Cheese Frosting:
4 ounces cream cheese

, room temperature
2 tablespoons butter

, melted
1 1/2 cups powdered sugar
Beat all the ingredients together until smooth and creamy.