Many Victorian-style crazy quilts included 3-dinensional elements, such as beads, charms, ribbons, and buttons. I added a few of these elements to my quilt this past week.
I found these iron-on studs at both the fabric store and the craft store. They are easy to use and the strip of studs can be cut to fit the area you wish to cover.
I cut the strip of studs in half, lengthwise, before using.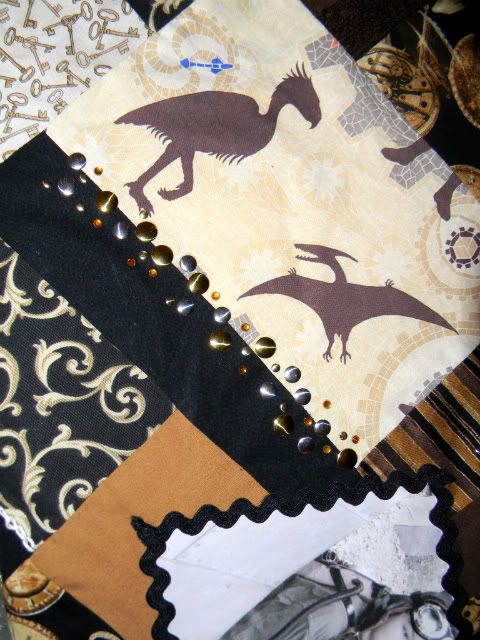 A few very tiny stitches, done in a color that matches the ribbon, can be used to give a sewn-on ribbon a nice draping look.
Buttons can be used.
I really like the shininess and irregularity of natural mother-of-pearl buttons.
Pre-made flowers and bows can also add some texture and depth to the design.
Seed beads and bugle beads can both be used to make free-form designs or to outline embroidery designs.
Here are a couple tutorials that I found, that may come in handy when making 3-dimensional elements for a crazy quilt.
How to make a variety of cloth flowers
Beaded Backstitch