Sometimes it's nice to have educational projects that don't take much planning. I really like the History Pockets series from Evan-Mor Publishing for just that reason.
Last week and this week, we are using the section on Ancient Mesopotamia from
History Pockets: Ancient Civilizations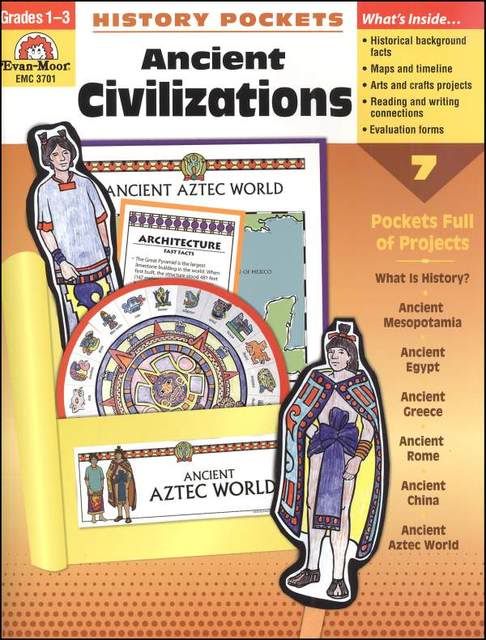 The pocket activities in this book are not like standard worksheets. They require coloring, cutting, and gluing, and they look great in a logbook.
So far, Blaze has colored the pictures on a three-page introduction to Ancient Mesopotamia and done the following vocabulary page: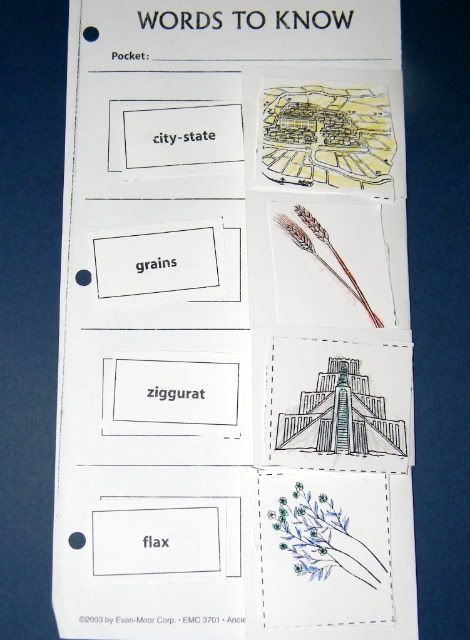 He also colored and assembled a pop-up card that explained the meaning of ziggurat:
The outside of the card
The inside of the card
This next project, from the same book, I started with Blaze, but ended up assigning it to all the older elementary students at school, when the regular history teacher was called away unexpectedly yesterday.
I told them that they had all traveled in their time machines, back to Mesopotamia, and this was to be a postcard they would send home or to a friend in our time, telling about what they saw. Not everyone is finished with their card yet, but this was one of my favorites so far:
Dear Mom,
Hello from Mesopotamia!
I decided to nickname it MESSYpotamia. I got to ride in a chariot (after sneaking it out of the chariot place), climbed a ziggurat (when nobody was watching), and made a pot (and rolled it into the queen). Gotta go! The palace guards are after me! Bye!
From D.
The word "ziggurat" on this postcard is actually written in cuneiform.
Incase you can't read the words written in pencil on the upper right-hand corner of the card, it says this card is worth 7 water buffalos.