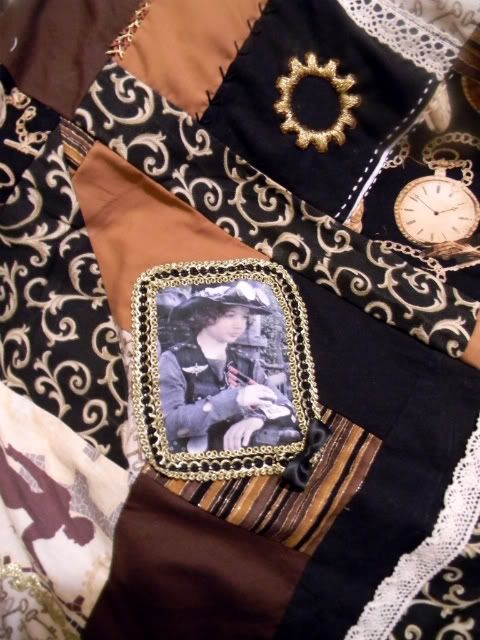 With only one day to go until my self-imposed deadline for finishing the crazy quilt picnic blanket, I now must admit I have had mixed success. The quilt is not finished, and I am giving myself another week to finish it. Blaze seems even more disturbed, than I do, about my failure to meet this deadline. When I suggested reading a book about the Spring Equinox to him today, since tomorrow will be the equinox, he gasped, "but you're not done with the quilt!". He even started apologizing for all the times he'd distracted me, when I could have been sewing.
On the more positive side, though, setting a deadline has kept me more focused on finishing this project. I have worked on it for a little while every evening.
This past week, I added photographs to the quilt, using cotton-fabric transfers. I wanted something that was more durable than iron-on transfers. With these, you can use an ink jet printer to print directly onto sheets of stiff cotton cloth that has been treated to be an iron-on patch. This was my first time using this product, so it was a learning experience.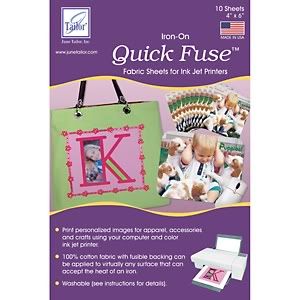 There are different brands on the market. I tried two, one from Joann Fabric and one from Wal-Mart. I didn't notice any great difference in the quality, but size made a difference. I wasted several of the 4"x 6" size, just trying to get the full picture printed on the fabric. I found it much easier, with our printer, to print multiple images on one of the sheets that was the size of a standard sheet of paper and then cut the pictures out.
I have not been impressed with the lasting power of the adhesive on either brand. Definitely, do iron the patches in place, because it works as the best possible basting while you sew them down, but don't trust the ironing to hold them in place forever.
I used a variety of decorative trim around my pictures as a way of sewing the patches down without obvious stitches showing and because it really "drew the pictures into the quilt", making them look like they were really part of the project.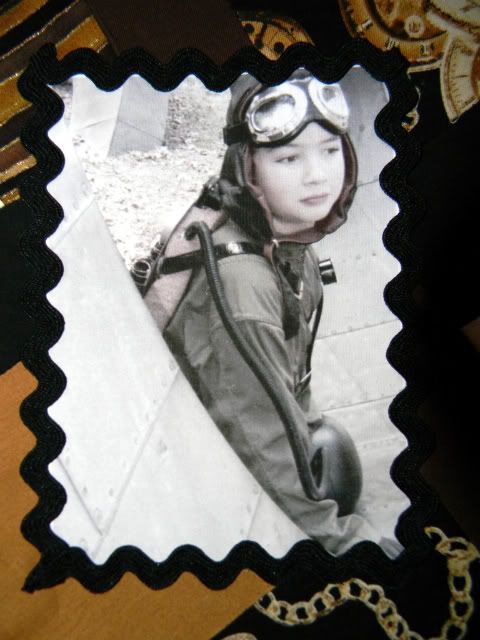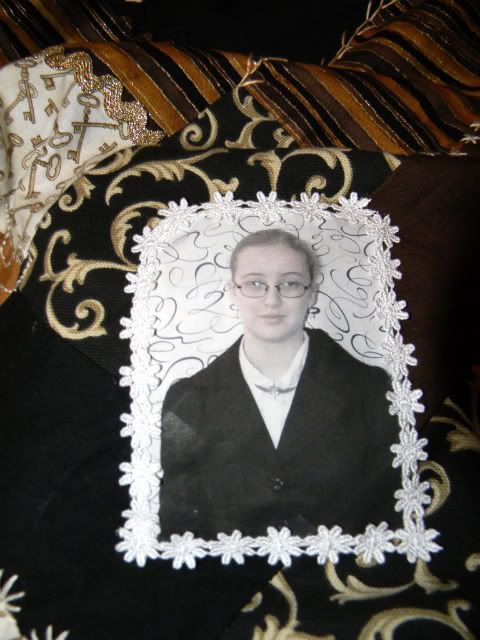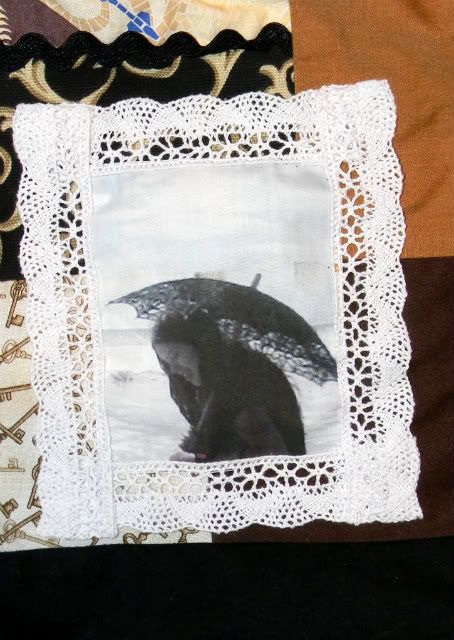 The family photographs were added as sort of a homage to the old picnic blanket, which had the birth dates of my daughters and ex-husband embroidered on patches.
I also added this picture from the
Graphics Fairy
, just because I like it:
The only other addition to the blanket this week, was a small cotton doily.