Eating like Percy Jackson:
At the beginning of the book,
The Sea of Monsters
, Percy Jackson's mom serves him a special breakfast of blue waffles, so this was Blaze's special breakfast, the morning after we read that chapter.
The Percy Jackson and the Olympians Series
, by Rick Riordan, has become very popular in our house all of a sudden.
I had already read the first four books a couple years ago, and had even recommended them to several students, especially the students with ADHD or Dyslexia, since these problems are both explained by the books to be signs that you are a demi-god. Blaze, however, just discovered the series, and loves it.
This fascination began when we found the movie at the library. Blaze loved it, but I really didn't. Too much of the story had been changed. It bothered me so much that the next time we went to the library, I checked out the audio-book and downloaded it onto my Ipod, so we could listen to it as we drove back and forth from school or Blaze's appointments.
Our local Borders Bookstore is one of the 200 stores nation-wide that are closing as the company reorganizes after declaring bankruptcy. All of the merchandise has been marked down, so DH told Blaze he could choose a book. Blaze struggles terribly with his reading, but he promised to try to read it himself, if DH would buy him the graphic novel adaptation of
The Lightning
Thief
. He carried that book around everywhere for about a week.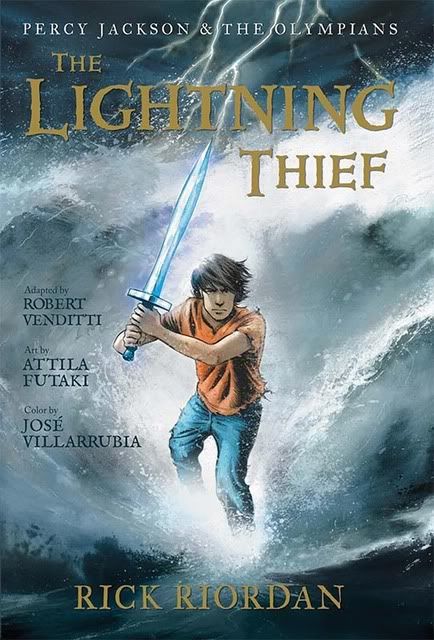 We finish listening to
The Lightning Thief
audio-book last week and I started reading the next book in the series,
The Sea of Monsters
, aloud as a bedtime story.
Rick Riordan also has an excellent website:
http://www.rickriordan.com/my-books/percy-jackson/welcome-to-camp-half-blood.aspx