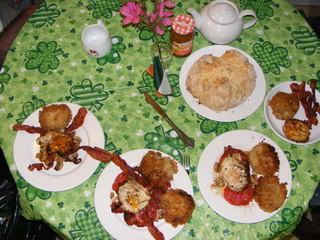 Irish Soda Bread

butter for greasing the baking sheet
4 cups unbleached white flour
1 tsp. salt
1 tsp. baking soda
1 1/2 cups of buttermilk
Preheat oven to 425 degrees F.
Melt 1 Tablespoon of butter and use it to heavily grease a baking sheet. Them mix all the dry ingredients in a large mixing bowl.
Add the buttermilk and mix until all the flour is moist and can be made into a ball. Place the dough ball in the center of the baking pan and cut an X in the top of the dough, using either a knife or a pair of scissors.
Bake for 45 minutes
Pratie Oatens
3 Large potatoes, peeled
1 cup uncooked rolled oats
1/2 cup (1 stick) unsalted butter
1 tsp. salt
Bring a pot of water to a boil. Dump in the potatoes and boil until they are tender. Drain and mash them. Add the butter and let it melt. Mix the melted butter in with the potatoes and let the mixture cool for about 10 minutes. Mix in oats and salt to form a soft dough.
Roll out on a well floured board to about 1 inch thick. Cut out circles using a biscut cutter.
Fry in a little butter or oil until golden brown on both sides.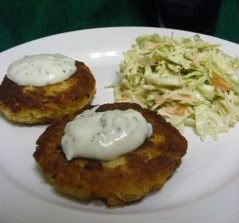 Salmon Patties with Parsley Sauce
2 6-ounce cans of salmon (boneless)
1/2 cup cracker crumbs ( this time I used panko bread crumbs and they worked very well)
1 egg, beaten
1/4 Cup parsley sauce ( the recipe will follow this one)
1 Tablespoon lemon juice
1/4 teaspoon black pepper
vegetable oil for frying
1. Drain all the water from the canned salmon. Place the salmon in a large bowl.
2. Add the cracker crumbs, egg, parsley sauce, lemon juice, and pepper. Mix well.
3. Heat 2-3 Tablespoons of oil in a large frying pan.
4. Using wet hands, shape the salmon mixture into patties.
5. Fry the patties for about 5 minutes on each side or until they are an even golden brown.
6. Serve with a spoonful of parsley sauce on each patty.
Parsley sauce
4 Tablespoons of fresh parsley, washed and finely chopped
1 Tablespoon lemon juice
1 Cup mayonnaise
1/8 teaspoon salt
1/8 teaspoon pepper
1 Tablespoon milk
Place everything in a blender or food processor and puree until the sauce is smooth and flecked with green.