If you are starting to think about what your children can make to give as holiday gifts, these are very easy to make and are pretty gifts to give teachers and grandparents.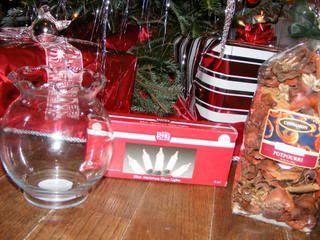 Materials Needed:
one glass bowl (found at Dollar tree, price $1)
one string of 35 white Christmas lights ( our were from the after Christmas sales at Target last year, price around $.85)
your choice of potpourri (found at Dollar Tree, price $1)
one crocheted doily (found at Jo-Ann Fabrics, price $1.79)
fabric ribbon of your choice
1. Start by feeding a few of the lights into the bottom of the bowl.
2. pour in a little of the potpourri and then feed in a few more lights. Keep alternating until all the lights are in the bowl and it is full of potpourri ( one bag of potpourri should fill about 3 bowls).
3. place doily over the mouth of the bowl and tie in place with a pretty ribbon.
large mason jars can also be used for this, just leave off the lid.