Yesterday, we did a little Thanksgiving preparation. I baked pumpkin cookies, using the wonderful recipe at
Mountain Pulse
.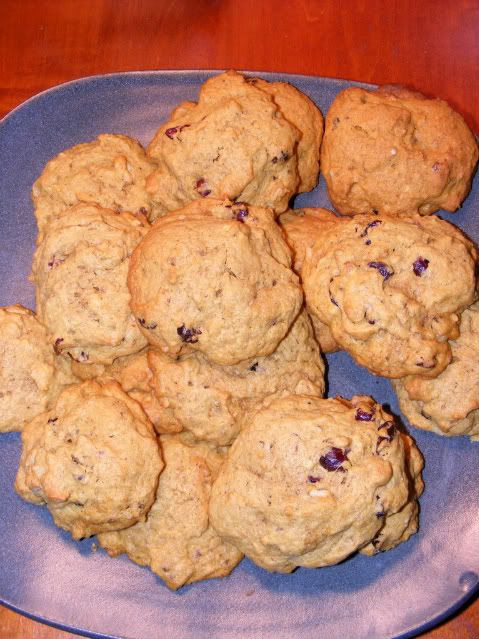 The only thing I did differently with the cookies, was to substitute dried cranberries for the raisins.
We also decorated a little for Thanksgiving:
I'm not doing as much cooking for Thanksgiving as I have in past years, because we have been invited to the home of some friends, and all I need to make is dinner rolls. This is the recipe I will be using for those:
Refrigerator Roll Dough
1 package ( 1 Tablespoon ) active dry yeast
1 1/2 Cups warm water (105 to 115 degrees)
1 Cup unseasoned lukewarm mashed potatoes
2/3 Cup vegetable oil
1/3 Cup honey
1 1/2 salt
5 to 6 cups unbleached white flour
This is a good recipe to make on a night when you are making mashed potatoes for dinner. Before seasoning the potatoes, reserve 1 1/2 cups of the potato water and 1 cup of the plain mashed potatoes.
In a large mixing bowl, combine the yeast and water. Then add everything else, first mix with a spoon and then kneed by hand. Add flour as necessary, until it becomes a good pliable dough. Form the dough into a large ball and oil the outside of the ball, so it won't dry out while rising. Cover and place in the refrigerator over night. The dough can be kept in the refrigerator for up to 3 days. The dough does not have to be baked all at once. You can bake just what you need for each meal. Punch down dough before using. Bake at 350 degrees until golden brown.
I use this dough for everything. It makes great cinnamon rolls. If a little nutmeg is added, it is perfect for hot cross buns. Fillings can be added to turn it into sweet rolls and it can be rolled around hot dogs or sausages to make "pigs in a blanket".
Here is a link to some of the recipes I used last year:
Favorite Thanksgiving Food