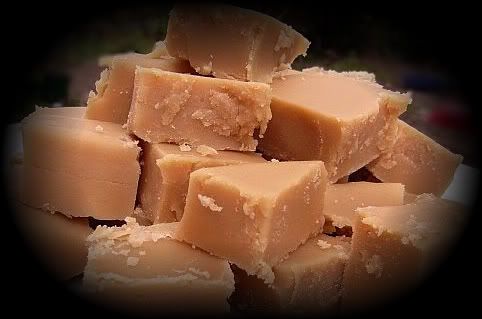 Here are two very different recipes for peanut butter fudge. Both are recipes from my Mother. The first one is the recipe for the peanut butter fudge she makes for Christmas every year. The second recipe is the one she used in the microwave cooking classes she used to teach.
Stove Top Peanut Butter Fudge
2 Cups white sugar
dash of salt
1 Tablespoon flour
2/3 Cup cream ( half and half)
2 Tablespoons light corn syrup
1/2 Cup peanut butter
1/2 Cup coarsely chopped peanuts
Combine sugar, salt and flour. Add cream and syrup . Cook until soft ball forms in cold water (234 degrees F.) . Remove from heat. Add peanut butter and beat until creamy. Stir in nuts. Pour into greased square pan and cut into squares before cool.
Microwave Peanut Butter Fudge
3 Cups white sugar
1 (5 1/3 oz.) can evaporated milk (equals 2/3 cup)
1/4 Cup butter or margarine
1 (7, 9, or 10 oz.) jar of marshmallow creme (fluff)
1 cup creamy or crunchy peanut butter
1 teaspoon vanilla
Mix sugar, milk, and butter in a large glass, microwave safe, bowl. Microwave 4 to 5 minutes on "high" or until mixture boils, stirring 2 or 3 tomes. Microwave 3 minutes longer, stirring once. Stir in marshmallow creme, peanut butter, and vanilla. Beat until well blended. Spread mixture in buttered 13X9X2 inch pan. Cool, then refrigerate. Cut into squares when firm.