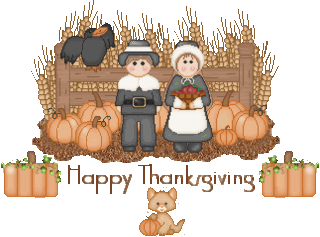 In past years DH and I have had this wonderful tradition of buying new Thanksgiving issues of some of our favorite food magazines. We would then spend a day with a pile of food magazines spread out around us on the bed, deciding what exciting new recipes we wanted to try. This year, however, we didn't get to do that, so we are just making some of our old favorites.
Here is DH's favorite cranberry sauce:
Mulled Cranberry Sause
1 12-ounce bag of fresh cranberries
1 1/2 Cups red wine
1 1/4 Cups dark brown sugar
1/3 Cup minced crystallized ginger
1 Tablespoon grated orange peel
1/2 teaspoon ground cinnamon
1/2 teaspoon ground allspice
1/4 teaspoon ground cloves
Place all the ingredients in large saucepan. Bring to a boil over high heat, stirring constantly. Reduce heat to medium and cook about 15 minutes, until the cranberries have broken down and the sauce has thickened. Transfer the sauce into a bowl and chill.
This is another of DH's favorites. It's not a sweet pudding, it's more like a savory casserole.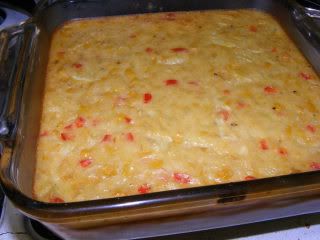 Corn Pudding
2 Tablespoons butter
2 Tablespoons chopped red bell pepper
1 medium onion, chopped
3 Tablespoons unbleached all-purpose flour
1/2 teaspoon salt
1/4 teaspoon pepper
2 eggs, slightly beaten
1/4 Cup milk
2 cans of cream-styled corn
Place butter, bell pepper, and onion in a 1 1/2-quart glass dish. Microwave for 2 minutes on high power. Stir. Add flour and stir in well. Add all the other ingredients and stir well.
Bake in a conventional oven for 30 minutes, or until set, at 350 degrees Fahrenheit.
A friend from Virginia gave me this recipe years ago, because she said Northerners like me don't know how to make good pecan pie.
Southern Pecan Pie
1/2 Cup sugar
1/4 Cup softened butter
1 Cup dark corn syrup
3 eggs
1 teaspoon vanilla
1/4 teaspoon salt
1 1/4 Cup pecan halves
Cream butter and sugar together. Add corn syrup and mix well. Add eggs, vanilla, and salt. Mix well. Stir in pecans. Pour into unbaked pie crust and bake for 50 minutes at 350 degrees Fahrenheit.
And the cooking continues...
Blaze breaking up bread for stuffing.