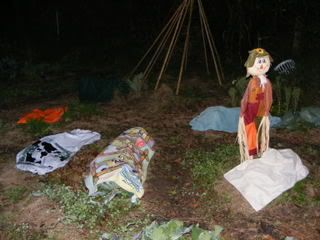 We've been lovingly "tucking-in" the plants in the garden at night, so they will survive these freezing nights. All of the people who have gardens near us are doing the same, so it looks quite colorful out there, with towels, bed-sheets, blankets, and plastic thrown over the plants. It's been working really well and we should have more cabbages to harvest in a couple days.
Citrus Slaw
1/3 Cup Orange juice
1/4 Cup Cider Vinegar
2 Tablespoons sugar
3 Tablespoons Dijon Mustard
Salt and pepper to taste
Mix all the above items together and pour over one pound of pre-shredded cole slaw mix. Toss until all the cabbage is coated. Serve. ( I used mandarin oranges for garnish).
It also keeps well in the refrigerator over night, in a closed container.