This week's "Corner View" theme was cityscapes.
Gainesville, where I live, is not a very big city, so there are no impressive cityscapes here I can show you, but Gainesville is a two hour car ride to three major cities. Depending on which direction you decide to drive, you can go to Tampa, Orlando, or Jacksonville in roughly the same amount of time. I will warn you, though, the traffic is worse going into Orlando and there are toll roads.
This past weekend we were staying just North of Jacksonville, at Kingsley Plantation because my husband is one of the teaching assistants at the archeology field school that the University of Florida is conducting there.
Jacksonville is the continental United States' largest city, if you only look at land usage and not population. It is a fairly charmless, industrial, port city.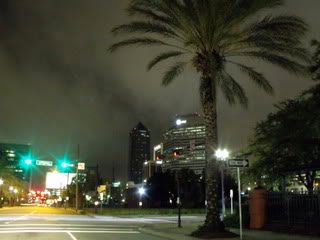 There has been a lot of rain around here lately. This sign was on Main Street in Jacksonville Saturday night: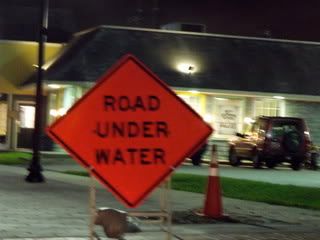 I had originally missed the instructions that said the pictures were supposed to be taken from a high place, so this is a late addition to the post ( it was taken from an elevated highway while driving past Jacksonville, Sunday afternoon.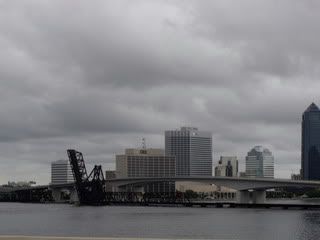 I think Orlando is a far prettier and more interesting city. These pictures of Orlando are my favorite recent cityscape photographs: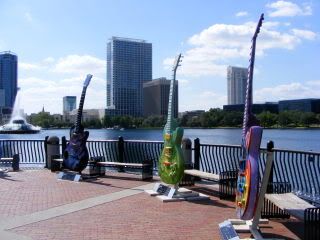 Enjoy some more urban travels with the other corner views from around the world:
jane
,
ladybug-zen
,
ian
,
bonnie
,
esti
,
sophie
,
cele
,
modsquad
,
caitlin
,
joyce
,
ani
,
couturecoucou
,
kim
,
a day that is dessert
, natsumi
, epe
,
kaylovesvintage
,
trinsch
,
c.t.
,jeannette
,
outi
,
schanett
, ritva
,
dongdong
,
francesca
,
state of bliss
,
jennifer
,
dana
,
denise
,
cabrizette
,
bohemia girl
,
ruth
,
dianna
,
isabelle
,
amber
, a girl in the yellow shoes
, mister e
,
janis
,
kari
,
jgy
,
jenna
,
skymring
,
elizabeth
,
audrey
,
allison
,
lise
,
cate
,
mon
,
victoria
,
crescent moon
,
erin
,
otli
,
amy
,
ida
, caroline
,
lisa
,
dorte
,
kimmie
,
la lune dans le ciel
, nicola
,
malo
,
vanessa
,
britta
,
virgina
,
april
,
rebecca b,
kyndale,
sunnymama,
karen,
kristina,
angelina
,
sophie
,
dorit
,
goldensunfamily
,
Janet
,
mcgillicutty