Since Kingsley Plantation is a National Park, there are beautiful, protected, primeval looking forests all around the Plantation. It's a great place to go for walks, birding, or looking for animals.
The area right around the plantation buildings is home to several gopher tortoises. What I was learning this past weekend was that every creature who comes in contact with a person at Kingsley ends up with a name.
Meet Lawdog.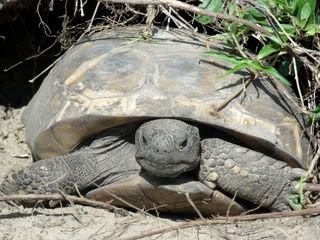 I was taking this picture when a ranger walked by and told me that his name was Lawdog, because he has a chunk taken out of his shell on the back left side, that the rangers decided he had received while "laying down the law" for some other animal.
This is Niko the crab. Blaze named him after his sister Nika because he said they were both "crabby". Blaze and I sat on the seawall in front of the Kingsley House for a long time watching the adventures of Niko the crab.
Monday afternoon, DH, Blaze, one of the rangers, and I took a walk over to where the students have been uncovering the remains of the sugar mill. The large black tarps that had been spread over the dig to keep out the rain water, had themselves filled with water.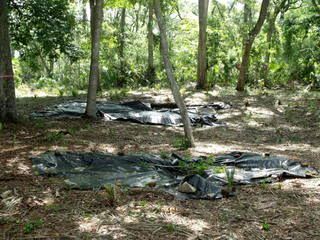 Mostly the puddles on the tarps had just become a mosquito breeding grounds, but one of the larger puddles had a snake and several small frogs in it. They were all trapped in the puddle because the slick sides of the plastic covered hole were too steep.
As we were trying to figure out how to help the snake and frogs get out of the puddle, the ranger announced, "Her name is Penelope."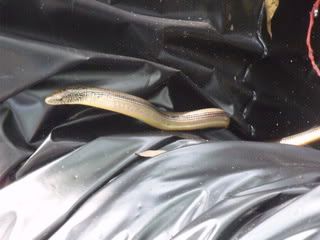 The picture is not as clear as I had hoped, but
this clever little frog was trying to climb Penelope's body as a path to freedom.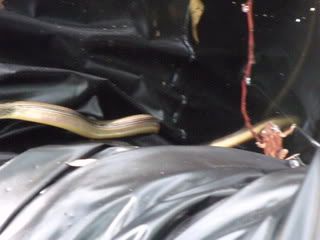 Well, maybe that was a slight exaggeration, not every creature has a name. As far as I know, none of these has been named.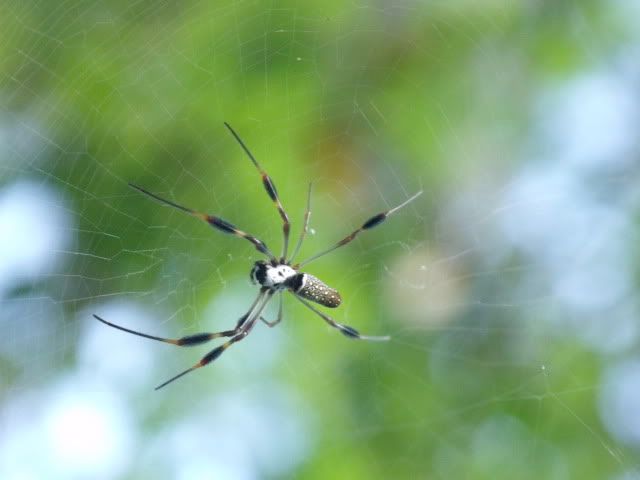 The Wooly Bear Caterpillar
P.S.
We just got exciting animal related news. One of DH's co-workers is giving us free tickets to Disney's Animal Kingdom for next Friday. None of us have ever been there before.