This week's Unplugged Challenge topic on
Unplug Your Kids
was "powder". Since our history lessons are all about early American pioneers right now, I thought it was appropriate to grind our own flour using an old fashion hand-cranked coffee grinder, just like they did in the Laura Ingalls Wilder book,
The Long Winter
.
It wasn't easy. I think you may actually use more calories grinding the wheat, than you get from eating the wheat.
This is what the wheat looked like before we began: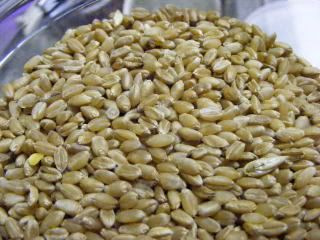 Then it was poured into the antique coffee grinder and we took turns grinding it.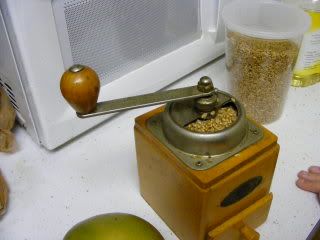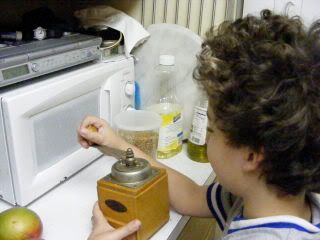 One time through the grinder was not enough. This batch had just finished it's third grinding and was finally ready for some sifting.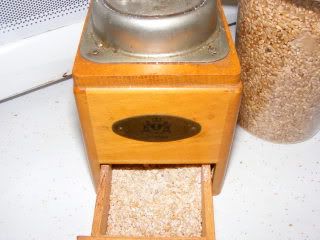 The sifting was necessary, because there were still many hard wheat berries that hadn't been ground.
We produced about a half cup of flour this way and then gave up and used the electric coffee grinder for the rest, and thought about how lucky we are to live in the age of electric power.
So, here is our powder, in the form of whole wheat flour:
We then used our whole wheat flour to make blackberry muffins, using the blackberries we picked ourselves.
Whole Wheat Blackberry Muffins
1 Cup Whole Wheat Flour
1 Cup Unbleached All-Purpose Flour
3 teaspoons baking powder
1 teaspoon salt
3/4 Cup milk
1/2 Cup vegetable oil
1/3 Cup honey
1 egg
1 Cup of Fresh Blackberries
Pre-heat oven to 350 degrees F.
In a large mixing bowl, combine all of the dry ingredients and blend well. Next, add the milk, oil, honey, and egg. Mix.
Add blackberries and fold in gently.
Fill greased muffin cups and bake for 20 minutes.