This week's theme on
Corner View
was photos of "The Great Out Doors", so I took a picture of
The Great Outdoors
:
Actually, we were driving to Poe Springs to go swimming, when we passed the sign for the new restaurant, in the quaint little town of High Springs. I had to stop and get a picture.
Most outdoor recreation in Florida involves water in some form.
We are located about a two hour drive from the Golf of Mexico to the West, and the Atlantic Ocean to the East, but here in the middle we have creeks, swamps,rivers, lakes, ponds, and lots of big freshwater springs that make great natural swimming holes.
Poe Springs is one of the many springs that feed the Santa Fe River.
There is a deep water area, but most of the swimming area is shallow and so clear that you can see the sandy bottom and tiny fish as if you were looking through glass.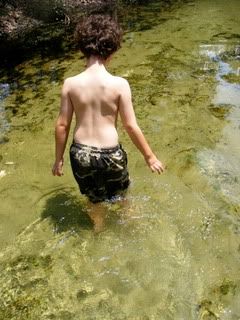 The Santa Fe River is great for real canoeing, but the spring is great for Blaze and his little inflatable canoe.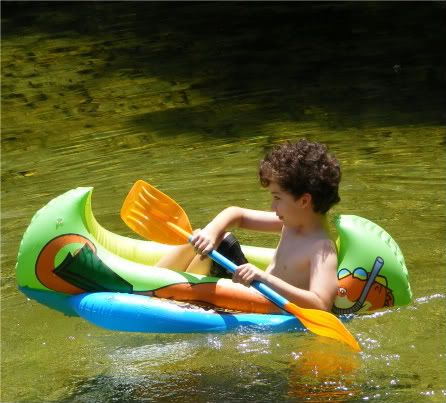 We went to Poe Springs on Friday and there were so few people that there were times we had the whole swimming area to ourselves.
Cypress knees near the spring
The spring water running into the river:
The Santa Fe River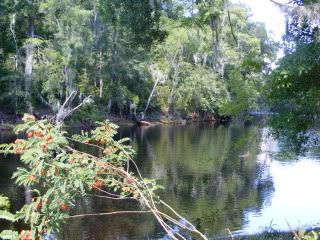 the banks of the Santa Fe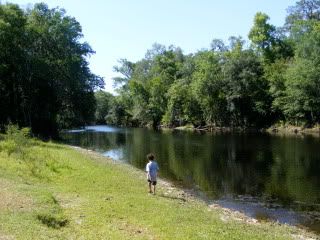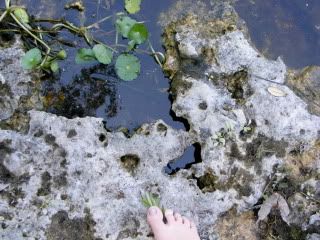 For an exciting virtual tour of the great outdoors around the world, don't forget to check out all the other Corner View participants:
jane
,
ladybug-zen
,
ian
,
bonnie
,
esti
,
sophie
,
cele
,
modsquad
,
caitlin
,
joyce
,
ani
,
couturecoucou
,
kim
,
a day that is dessert
, natsumi
, epe
,
kaylovesvintage
,
trinsch
,
c.t.
,jeannette
,
outi
,
schanett
, ritva
,
dongdong
,
francesca
,
state of bliss
,
jennifer
,
dana
,
denise
,
cabrizette
,
bohemia girl
,
ruth
,
dianna
,
isabelle
,
amber
, a girl in the yellow shoes
, mister e
,
janis
,
kari
,
jgy
,
jenna
,
skymring
,
elizabeth
,
audrey
,
allison
,
lise
,
cate
,
mon
,
victoria
,
crescent moon
,
erin
,
otli
,
amy
,
ida
, caroline
,
lisa
,
dorte
,
kimmie
,
la lune dans le ciel
, nicola
,
malo
,
vanessa
,
britta
,
virgina
,
april
,
rebecca b,
kyndale,
sunnymama,
karen,
kristina,
angelina
,
sophie